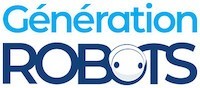 My Cart
0
item(s)
-
€0.00
There are no more items in your cart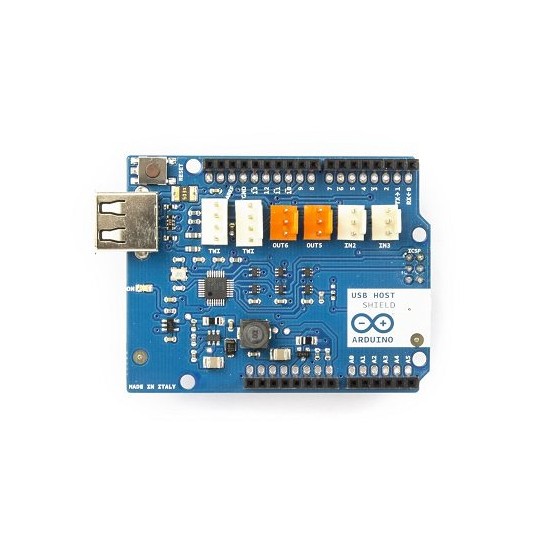 Arduino USB Host Shield
Connect all your USB devices and TinkerKit modules simply and rapidly on your Arduino board thanks to the Arduino USB Host shield! DISCONTINUED PRODUCT
Arduino USB Host Shield: how does it work?
The Arduino USB Host Shield is an Arduino-compatible shield allowing you to directly connect USB devices and run them on your Arduino board.
This shield is based on a MAX3421E controller, which has its own logic, analogue and digital circuits needed to support a full-speed USB device, or a USB 2.0 host at fast or slow speed.
The Arduino USB Shield is also compatible with the TinkerKit modules, so there's no need to use a Sensor Shield to operate them – simply connect your sensor or actuator directly on the USB Host Shield and you'll have access to a very nice range of modules and other devices for all your Arduino projects.
The communication between Arduino and MAX3421E is established via the SPI bus; on the Arduino UNO board this involves digital pins 10, 11, 12 and 13, and for Arduino Mega pins 10, 50, 51 and 52.
Connect a wide range of devices to your USB Host Shield for Arduino!
Once your USB Host Shield has been connected to your Arduino, you'll have access to a wide range of modules, sensors, HID devices and converters that can be connected directly to the shield:
Human interface devices: mice, screens, joysticks, etc.
Game controllers for PlayStation 3, PS4, Wii, Xbox 360 consoles, etc.
USB-serial converters: FTDI, PL-2303, ACM as well as some mobile phones and GPS receivers
Android tablets and phones equipped with an ADK
Digital cameras: Canon EOS, Nikon DSLR, Powershot, etc.
Mass storage devices: memory card readers, USB sticks, external hard drives, etc.
Bluetooth dongles
Not to mention, of course, the multitude of TinkerKit modules designed for Arduino!
Technical specifications of the Arduino USB Host Shield
Operating voltage: 5 V
USB Controller: MAX3421E
Maximum current: 500 mA when the Arduino board is powered by a compatible battery plugged into the board's power outlet
Maximum current: 400 mA when the Arduino board is powered via its USB port
Male USB port: 1
TinkerKit connectors (input): 2 (IN2, IN3)
TinkerKit connectors (output): 2 (OUT5, OUT6)
TinkerKit TWI connectors: 2 (4-pin), connected to the same TWI interface to enable chained connections of TinkerKit modules
Resources for the Arduino USB Shield
There are numerous links available to help you make the most of all the Arduino USB Shield has to offer.
Arduino library:

Tutorials:
Control an RC car with an Xbox wireless game controller
Add a display to a digital scale
Eagle files:

Customers who viewed this item also viewed