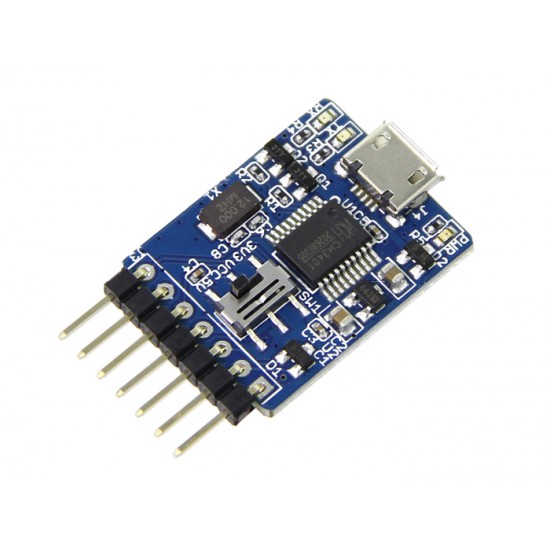 USB-to-UART 5V/3V3 Adapter
If you want to establish a communication between your computer's USB port and your Arduino board, transmit data between these two components and even upload code, the USB-to-UART 5V/3V3 Adapter is just what you need!
Including €0.01 for ecotax
USB-to-UART 5V/3V3 Adapter: how does it work?
The USB-to-UART Adapter is equipped with a CH340 chip appearing on your PC as a serial type device, and allows you to establish a serial type communication between your computer and your UART-equipped microcontroller board.
This adapter has been designed to modulate its logic voltage (3.3 or 5 V) by means of a simple switch. It works with a 5 V power supply via USB.
Compatibility of the USB-to-UART 5V/3V3 Adapter
Whether you're a fan of Windows, Mac or Linux, you'll be able to communicate easily with your Arduino microcontroller or equivalent using this adapter. In some cases, you'll just need to install the appropriate driver (download links are provided at the end of this article).
Technical specifications of the USB-to-UART 5V/3V3 Adapter
Supply: 5 V via USB
Consumption: 10 mA max.
Serial voltage: 3.3 or 5 Vdc (switch selectable)
Speed: 2400–115200 bps
Status indicator LEDS
Dimensions: 36 x 21 x 8 mm
Compatible systems: Windows, Linux, Mac
Resources for the USB-to-UART 5V/3V3 Adapter
To make sure you lose as little time as possible looking for information, below are some explanatory links:
Adapter wiki page for the USB-to-UART 5V/3V3 Adapter
USB-to-UART 5V/3V3 Adapter EAGLE files
CH340 chip datasheet for the USB-to-UART 5V/3V3 Adapter
Assembly schematic for the USB-to-UART 5V/3V3 Adapter
And some links for downloading any necessary drivers:
Windows driver for the USB-to-UART 5V/3V3 Adapter
Customers who viewed this item also viewed