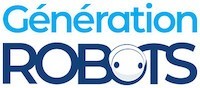 My Cart
0
item(s)
-
€0.00
There are no more items in your cart



Flora GPS Starter Pack
This Flora GPS Starter Pack, compiled by Adafruit, is ideal for carrying out your first wearable electronics projects. It is a comprehensive starter kit for exploring the different possibilities offered by the Flora wearable electronics platform! DISCONTINUED PRODUCT
Flora GPS Starter Pack: for beginners and experts!
You may be a whizz in electronics, but do you know how to use a thimble? Or perhaps you're great with a needle but know nothing about electronics? In either case, the Flora GPS Starter Pack is the ideal solution, as it offers a well-designed kit suitable for both beginners and experts allowing you to take your first steps in the world of wearable electronics using a set of excellent quality components, brought together here to spotlight all the possibilities offered by the Flora board!
You can find below a video presentation of the Flora Board
Flora GPS Starter Pack: your first projects with Flora
The Flora GPS Starter Pack offers numerous possibilities for helping you embark on your first wearable electronics project(s), such as an illuminated, flashing jacket, GPS sportswear or a GPS dog harness. Simply sew on your Flora board and its GPS module using the stainless steel thread provided (Adafruit even supplies the needles!), add your LEDs and/or your NeoPixels to your project and program your Flora board by connecting it with its USB cable to your computer.
A diagramm pinout is available below allowing to get familiar with the different Flora Board pins
And if you're lacking inspiration, there are lots of websites simply bursting with ideas for making the very most of the 1090 Flora GPS Starter Pack, starting of course with the Adafruit site itself!
Technical specifications of the Flora GPS Starter Pack
1 Flora Adafruit electronic platform
1 GPS Flora module
8 Flora RGB NeoPixels V2
1 3xAAA battery holder with JST connector and on/off switch
Thin stainless steel 2-ply thread: 25 m
Medium stainless steel 3-ply thread: 18 m
20 sewing needles
1 set of 12 small crocodile clips
1 A/mini-B USB cable: 1 m
4 alkaline AAA batteries
2 NPN bipolar transistors (PN2222)
2 super-bright 5 mm infrared LEDs
2 x 100 Ω resistors
Resources for the Flora GPS Starter Pack
Here are some very useful links providing you with lots of useful information on your Flora GPS Starter Pack to make sure you're never at a loss!
Getting started with Flora GPS Starter Pack
Customers who viewed this item also viewed