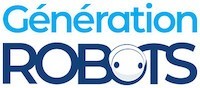 My Cart
0
item(s)
-
€0.00
There are no more items in your cart
SparkFun Inventor Electronic Kit v3.2 for Arduino Uno
Calling all budding inventors: the SparkFun Inventor Electronic Kit v3.2 also comes with an Arduino Uno board! This complete kit offers the same step-by-step lessons for understanding the basics of electronic assembly and programming in Arduino and putting this knowledge into practice. DISCONTINUED PRODUCT
SparkFun Inventor Electronic Kit v3.2 for Arduino Uno: 16 learning stages
For all children aged 10 and over, this SparkFun Inventor Kit is a complete learning guide for familiarising beginners with the basics of electronic circuit programming and assembly.
It contains numerous electronic and electrical components (LEDs, transistors, resistors, etc.), a DC motor and a servo motor, without forgetting the nerve centre of any electronic circuit, i.e. the Arduino Uno programming board, accompanied by a solderless breadboard and a holder for both these essential items!
As a young inventor, you'll have everything you need to successfully complete the 16 experiments described in the SparkFun Inventor Kit (SIK) guide. 16 steps that will help beginners from the age of 10 to learn not only how to assemble various different circuits, but also to understand the basics of the Arduino language and, ultimately, to program in Arduino.
No soldering is required to carry out these 16 fun experiments with Arduino Uno. All budding inventors will need is to show a little patience and to want to progress!
Worth knowing about the SparkFun Arduino Uno Inventor Kit
SparkFun has designed 2 kits for newbie inventors on Arduino: the SparkFun Inventor Electronic Kit v3.2 for Beginners, which works with the RedBoard, and the Inventor Electronic Kit v3.2 for Arduino Uno.
To make the packaging lighter (and therefore reduce transport and delivery costs), SparkFun has removed the carrying case and SIK guide (paper copy) from this second kit.
This guide is now available online only, but features the same lessons and experiments and gives the same step-by-step advice.
The first Inventor Kit for Beginners is also for sale on our site.
Technical specifications of the SparkFun Inventor Kit v3.2 for Arduino
The SparkFun Inventor Kit for Arduino Uno contains the following:
Arduino Uno board – R3 SMD
Arduino and breadboard holder
White solderless breadboard
SparkFun mini screwdriver
16 x 2 white on black LCD display (with connectors)
74HC595 shift register
2N2222 transistors
1N4148 diodes
DC motor with gear
Small servo motor
SPDT 5 V relay
TMP36 temperature sensor
Flex sensor
Softpot membrane potentiometer
SparkFun 15.24 cm USB cable
Jumper wires
Photocell
Tri-colour LED
Red, blue, yellow and green LEDS (5 of each colour)
5 red, blue, yellow and green touch buttons
Trimpot (potentiometer) 10K
Piezo speaker
Large 12 mm buttons
330 and 10K resistors
Resources for the SparkFun Inventor Kit v3.2 for Arduino
Look no further for the complete SparkFun Inventor Kit guide and its dedicated library of Arduino codes, we've provided both right here!

Customers who viewed this item also viewed