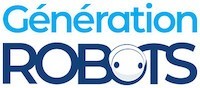 My Cart
0
item(s)
-
€0.00
There are no more items in your cart



Laser Break Beam Sensor: a sensor unlike any other!
This Laser Break Beam Sensor has a highly original design, which is reflected in the way it works. Like most laser break beam sensors, the principle is quite simple: when the laser beam is broken by the passage of an object or person, the sensor detects this and informs the user.
All quite ordinary so far... so what makes this module so different?
The sensor is integrated into the part equipped with the laser emitter. In other words, this sensor is not divided into two parts, with one having to be placed at the other end of the line to detect the break in the beam. Here, both elements (emitter and sensor) are united in a single and unique device!
How? Thanks to the extremely clever addition of a lens, right next to the laser diode, able to detect the bright red dot that is reflected when the beam is broken.
A little tip: your sensor will work much more efficiently if the surface breaking the beam provides a sufficient contrast. A piece of cloth will tend to disperse the light instead of focusing it in a point, whereas a piece of white cardboard reflects the light to perfection!
Use for the Laser Sensor
Your Adafruit Laser Sensor is extremely easy to implement – simply connect the red wire to a 5 V power source, earth the black wire and connect a pullup resistor to the output pin.
The sensor is also easy to use: when the beam is broken, the blue output wire is lowered to earth. As long as there is nothing getting in the way of the beam, the blue wire remains raised, and the voltage in the high position.
Video presentation of the Laser Beam Sensor (25:51)
Technical specifications of the Laser Beam Sensor
Emitter: 1 mW red laser diode
Range: up to 1 m
Operating voltage: 4.5–5.5 Vdc
Operating current: 25 mA
Output current (NPN transistor output): 100 mA max.
Sensing angle: < 10°
Response time: 2 ms
Working environment: indoors, between 0 and 70 °C – the device is not waterproof!
Dimensions (with components): 20 x 18 x 10 mm
Cable length: 250 mm
Customers who viewed this item also viewed