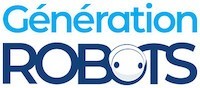 My Cart
0
item(s)
-
€0.00
There are no more items in your cart
125 KHz RFID Card (read-write)
The read-write 125 KHz RFID Card is a T5557-type programmable card compatible with the RFID Arduino kit and module.
Introduction to the 125 kHz RFID Card
If you're interested in RFID technologies, you've probably already heard of these RFID cards, which can not only be read by an RFID reader (for projects involving electronic identity recognition for example) but also be reprogrammed. Like this 125 KHz RFID Card, which gives you access to a read-write function that is extremely handy when you want to change the data stored on your card!
Compatibility of the Cooking Hacks RFID Card
The Cooking Hacks RFID Card is notably compatible with the Arduino RFID 125 KHz kit, equipped with an Arduino Uno Rev. 3 and the Arduino RFID Module, allowing you to both read and program the RFID tag on your card. You can also make use of T55XX for integrating your Cooking Hacks card into your RFID project.
Technical specifications of the 10104 RFID Card
Customers who viewed this item also viewed