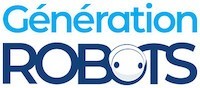 My Cart
0
item(s)
-
€0.00
There are no more items in your cart


2.8" Colour LCD TFT Capacitive Screen with microSD card and socket
New to Adafruit in September 2014 was this 2.8" Colour LCD TFT Capacitive Screen mounted on its Arduino-compatible breakout board and equipped with a microSD socket. A real bonus for all your visual and tactile projects! DISCONTINUED ARTICLE.
An LCD TFT Capacitive Screen and an Arduino-compatible breakout board in one!
This 2.8" Colour LCD TFT Capacitive Screen is a must! Large, bright and colourful, you can use it to display anything you like safe in the knowledge that it will be perfectly legible and a pleasure to look at, while also offering users the benefits of a touchscreen – simply choose a colour, slide your finger over the screen and enjoy!
The LCD TFT Capacitive Screen has been mounted on a breakout board with built-in RAM, which offers no shortage of advantages: Arduino-compatible (although to use with a Leonardo or Mega you'll need 3 jumpers), it offers two different modes: 8-bit or SPI! When you turn the board over, you'll find the SPI interface on the left side and the 8-bit pins on the right. Both work in a 3–5 V voltage range to remain compatible with any type of microcontroller:
In SPI mode, 5 pins will be required: SPI data in, data out, clock, select, d/c
In 8-bit mode, you'll need 8 digital data lines and 4 or 5 digital control lines: the connections are a little more complex, but this mode guarantees faster data transmission
Finally, the breakout board that comes with the LCD Capacitive Touchscreen has a MicroSD socket allowing you to connect all compatible cards.
Capacitive screen or resistive screen? The advantages of the 2.8" Colour LCD Capacitive Screen...
Adafruit also offers another, similar, version of this product, this time with a resistive screen. A resistive screen is also a touchscreen; fitted with two layers separated by small spacers covered in connectors, when you press on the screen with your finger the two layers are pushed together thus making the screen touch sensitive.
Capacitive screens, used to equip smartphones and iPhones, are sensitive to the reduction in the electrical charge, part of which is transferred to the finger (to the skin). Four measurement systems located at each corner of the screen then evaluate this reduction in electrical charge to deduce the exact location of your finger. The Adafruit 2.8" Colour LCD Capacitive Screen comprises a layer of solid glass, which improves screen transparency. Unlike resistive screens, you don't need to calibrate the display, it's all ready to go! Note, however, that this screen can only be used with one finger at a time, it can't respond to two simultaneous contacts.
This type of screen can therefore prove a valuable asset when creating touchscreen DIY video games, your very first smartphone or in any other project requiring use of a touch technology.
Technical specifications of the 2.8" Colour Capacitive Touchscreen
Screen: 2.8" TFT
Resolution: 320 x 240 pixels
18-bit, 26200 colours
ILI9341 controller
Backlighting: 4 white LEDs
4-wire resistive touchscreen
STMP610 controller
High-speed SPI interface
SPI touch driver
Supply: 3.3 or 5 Vdc
Screen size: 58 x 45 mm
Dimensions: 70 x 53 x 17 mm
Weight: 44 g
Resources for the 2.8" Colour Capacitive Touchscreen
To get successfully started with your LCD Capacitive Touchscreen and its Arduino-compatible board in just 15 minutes, take a look at the product's complete user guide written by Adafruit. It contains numerous download links (in particular for the Adafruit library designed for programming all the displays sold by the brand), a wiring guide, a presentation of the screen, etc.
https://learn.adafruit.com/adafruit-2-dot-8-color-tft-touchscreen-breakout-v2/overview
Customers who viewed this item also viewed