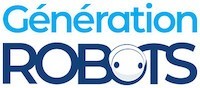 My Cart
0
item(s)
-
€0.00
There are no more items in your cart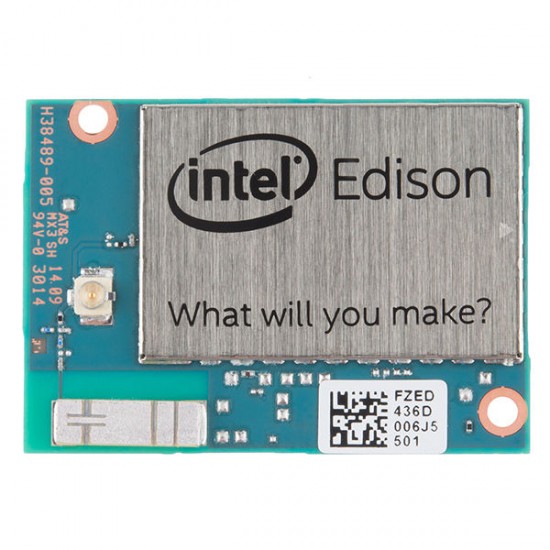 Intel® Edison
Intel® Edison is the new development platform aimed at creators and inventors of all sorts wanting to tackle the Internet of Things (IoT). It's a true mini computer that packs all the features the designers of IoT creations could wish for! DISCONTINUED ARTICLE.
Intel® Edison: a new step forward in the development of IoT solutions
This tiny board delivers a great performance that will be the envy of many developers, inventors and constructors in the field of electronics and IT. With an Intel Atom Silvermont dual core CPU at 500 MHz, 1 GB of RAM memory, a 4 GB flash memory and a 32-bit microcontroller at 100 MHz, you won't be disappointed!
As it's intended for prototyping Internet of Things products and developing home automation applications, you probably won't be surprised (rather delighted!) to find that this tiny computing platform is also fitted with WiFi and Bluetooth Low Energy (BTLE) modules, the latter offering considerable savings in electricity consumption.
As far as programming is concerned, the possibilities are endless: by default, the Intel Edison board uses a Yocto Linux OS allowing you to design your own applications, but it also supports Arduino 1.5.3, Python, Node.js and Wolfram programming environments.
Using the Intel® Edison board
The Intel® Edison DEV-13024 board can't be used on its own. Due to its minimalist environment, it requires use of other boards and development kits. But what we lose in compactness, we gain in creation possibilities and connections.
Intel has already planned a complete development board, and you'll find many similar products from SparkFun:
Mini Breakout for Intel® Edison
Stackable development boards (called "blocks") specifically designed by the SparkFun labs
Technical specifications of the Intel® Edison computing platform
Intel Atom Silvermont dual core CPU at 500 MHz
RAM memory: 1 GB (2 x 32-bit channels @ 800 MT/sec.)
eMMC (flash) storage: 4 GB
Intel Quark 32-bit microcontroller at 100 MHz
802.11b/g/n WiFi module
Bluetooth 4.0 LE module
SD card interface
CPU OS: Yocto Linux v1.6
70-pin connector
GPIO connectors: Total of 40, including:

2 UART connectors (1 full flow control, 1 TX/RX)
2 x I2C connectors
1 SPI connector
1 I2S connector
1 OTG (On The Go) connector for USB 2.0
12 additional GPIO connectors (with 4 capable of PWM)
Clock output: 32 kHz; 19.2 MHz

Operating voltage: 3.3 to 4.5 V
Output current: 100 mA @ 3.3 V; 100 mA @ 1.8 V
Consumption:

Standby (no radios): 13 mW
Standby (Bluetooth 4.0): 21.5 mW (BLE Q4-14)
Standby (WiFi): 35 mW

Dimensions: 35.5 × 25 × 3.9 mm
Operating temperature: 0 to 40°C
Resources for the Intel® Edison board
To make sure you get started easily with the platform, you will find below numerous explanatory documents and download links for the Intel® Edison board.
Getting started with Intel® Edison
Customers who viewed this item also viewed