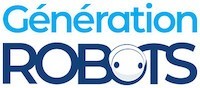 My Cart
0
item(s)
-
€0.00
There are no more items in your cart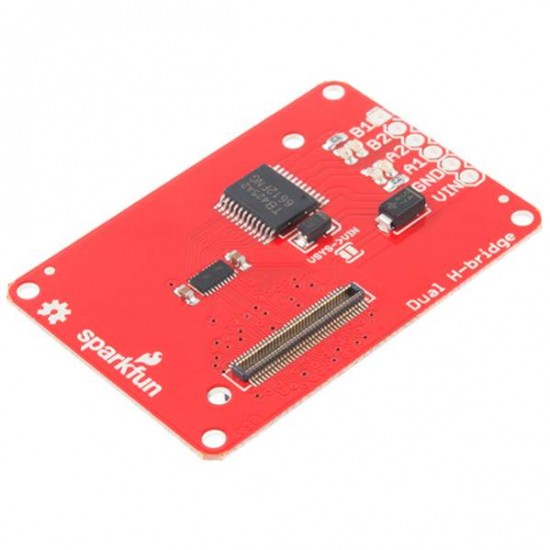 Dual H-Bridge Block for Intel® Edison
SparkFun |
A-000000-01658
If you're a fan of robotics, embedded electronics and the Internet of Things, the Dual H-Bridge SparkFun Block for Intel® Edison was made for you! It allows you to control 2 brushed DC motors at currents of up to 1 A each.
SparkFun Blocks for Intel® Edison: make the most of your Intel computing platform!
The Intel® Edison board is an ultra-complete and powerful mini computing platform that allows you to work on all your IoT inventions even more effectively than on an Arduino or Raspberry Pi platform. Although extremely compact, it has a dual core processor and comprises 1 WiFi module, 1 Bluetooth module and a 70-pin connector including 40 GPIO pins with UART, I2C, PWM, etc.
To help you make the most of this new board, SparkFun has developed a set of boards that can be stacked onto your Intel® Edison like shields on an Arduino, using the 70-pin connector. These blocks allow you to enjoy all the benefits of having an ultra-compact Intel® Edison while improving various different special functions. For example, one block might be used to power your Intel® Edison board and another to provide it with additional PWM channels, or with accurate navigation information using an integrated inertial measurement unit. In short, you'll have a whole range of very comprehensive tools for benefiting from, and even multiplying, all the features of your Intel® Edison!
SparkFun Dual H-Bridge Block for Intel® Edison: control 2 DC motors at once!
The SparkFun Dual H-Bridge Block for Intel® Edison allows you to connect your microcontroller to 2 brushed DC motors within a voltage range of 2.7 to 15 V, for a current of up to 1 A by motor. These 2 motors are powered by an external source, to be connected to the block's VIN and GND pins.
Your SparkFun Dual H-Bridge Block is isolated from the Intel® Edison board thanks to a logic level converter.
Technical specifications of the SparkFun Dual H-Bridge Block
SparkFun block for Intel® Edison board
Isolation by logical level converter
Input voltage: 2.7–15 V
Input current: 1 A by motor
Simultaneous support for 2 brushed DC motors
Resources for the SparkFun Dual H-Bridge Block for Intel® Edison
Below you'll find all the information available for the SparkFun DEV-13043 Block and the Intel® Edison board:
Schematic of the SparkFun Dual H-Bridge Block for Intel® Edison
EAGLE files of the SparkFun Dual H-Bridge Block for Intel® Edison
GitHub repository of the SparkFun Dual H-Bridge Block for Intel® Edison
Customers who viewed this item also viewed