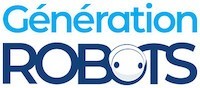 My Cart
0
item(s)
-
€0.00
There are no more items in your cart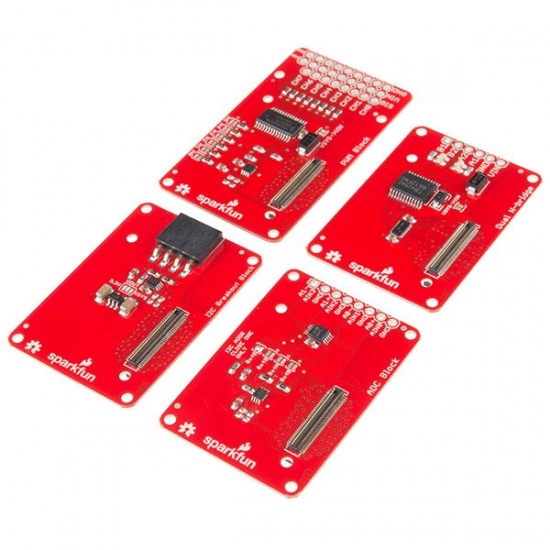 Interface Pack for Intel® Edison
SparkFun |
A-000000-01668
You may already be aware of all the astonishing things the Intel® Edison board can do. Well SparkFun is offering you a new way of putting these into practice thanks to its pack of 4 blocks designed especially for interfacing boards.
Interface Pack for Intel® Edison: make the most of your Intel® Edison's special features
The Intel® Edison microcontroller provides you with an ideal IT platform for creating IoT projects, and is more than capable of competing with other electronic boards such as the Arduino and Raspberry Pi in the field of the Internet of Things. Although ultra-compact, it's nonetheless equipped with a WiFi module and a Bluetooth Low Energy type module, and can be easily integrated into small connected objects and your compact home-automation projects.
To make the most of its tiny size while offering you the possibility to take advantage of and develop your Intel® Edison board's capacities, SparkFun has designed a very comprehensive range of "blocks", in other words expansion boards for Intel® Edison that can be stacked like shields. Each of these blocks is dedicated to a specific function – for example to supply power, for communication or to create an output or input signal – and there are several SparkFun blocks for each of these categories.
Multi-block Interface Pack for Intel® Edison: 4 ways of communicating
The multi-block Interface Pack for Intel® Edison is designed specifically for those wishing to make the most of all the connection possibilities offered by the Intel® Edison board's 70-pin connector with different devices and peripheral modules.
With the Interface Pack for Intel® Edison, you therefore have:
1 SparkFun I2C block, allowing you to establish an I2C communication with any sensor or device functioning with this type of communication. It can also provide a 3.3 V power supply by boosting the 1.8 V output voltage of the Intel® Edison's GPIO pins.
1 SparkFun PWM block, for adding eight 12-bit resolution PWM channels to the 4 PWM GPIO pins already included in your Intel® Edison. This is a very useful block for controlling servo motors and LEDs.
1 SparkFun ADC block, supplying your Intel® Edison with an analogue-to-digital converter for interpreting analogue output signals from different sensors and other devices. It communicates with Intel® Edison via the I2C communication bus.
1 SparkFun Dual H-Bridge block, allowing your Intel® Edison to manage 2 brushed DC motors powered by an external source connected to the block's VIN and GND pins (up to 1 A by motor, maximum input voltage of 15 V).
The following video introduces the Interface Pack for Intel® Edison :
Technical specifications of the SparkFun Interface Pack for Intel® Edison
The SparkFun Interface Pack for Intel® Edison contains:
1 I2C block
1 PWM block
1 ADC block
1 Dual H-Bridge block
Resources for the SparkFun Interface Pack for Intel® Edison
We have collected together all the documentation on the SparkFun blocks and the Intel® Edison board and provided it below to help you get your SparkFun Interface Pack up and running as rapidly as possible:
I2C block Schematics for Intel® Edison
PWM block Schematics for Intel® Edison
ADC block Schematics for Intel® Edison
Dual H-Bridge block Schematics for Intel® Edison
EAGLE files for Sparkfun Interface Pack for Intel® Edison
Overview of the Intel® Edison board
Getting started with the Intel Edison board
Software download for Intel® Edison
Customers who viewed this item also viewed