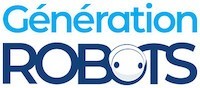 My Cart
0
item(s)
-
€0.00
There are no more items in your cart
SparkFun GPS Shield Kit
Creating your first DIY GPS systems has never been easier thanks to the SparkFun GPS Shield Kit, a GPS starter kit for Arduino allowing you to use (among others) one of the most popular GPS modules on the market: the EM-506 GPS module.
SparkFun GPS Shield Kit: break into the world of GPS navigation!
With the GPS Shield Kit by SparkFun, creating your first accurate and functional GPS systems should be child's play. The kit includes 3 essential components for making your life easier:
The SparkFun GPS Shield, which is an Arduino-compatible shield equipped not only with a connector for the EM-506 GPS module, but also footprints for the EM-408 and EB-85A connectors (not included) and a place for the GPS UP501 module. Once the stackable headers have been soldered to the shield, it can be very easily stacked onto an Arduino. It also has an area dedicated to prototyping.
The EM-506 GPS module is one of the most popular GPS modules on the market. It is a GPS receiver based on the very powerful SiRF Star III chipset. It has an embedded voltage regulator, an LED status indicator, battery-backed RAM and a patch antenna.
This kit also comes with a 6-pin cable for connecting the EM-506 GPS module and with stackable headers to be soldered onto the SparkFun GPS Shield.
Using the SparkFun Arduino GPS Shield Kit
Once your Arduino GPS Shield Kit has been assembled and connected to your microcontroller board, all that remains is for you to program your GPS module in the Arduino development environment. To download the necessary Arduino codes, you'll need to flip the DLINE/UART switch of the EM-506 module to DLINE. This switch also allows you to toggle standard TX/RX pins from your Arduino to other digital pins. By default, pins 3 and 2 are connected to your Arduino's TX and RX pins. The GPS module is also equipped with an on/off switch for its power supply.
Note also that SparkFun has added a place on the GPS shield for an extra 12 mm lithium battery in case you want to use the GPS EB-85A module for your GPS electronic assembly. An additional 10-pin connector for GPS serial and PPS signals is also included on the shield to add new devices.
Technical specifications of the SparkFun GPS Kit
The SparkFun GPS Kit includes:
1 GPS shield
1 EM-506 GPS module
1 Arduino stackable header kit (R3)
Resources for the SparkFun GPS Kit
Below is the complete list of all available documentation to help you use the SparkFun 13095 Kit:
SparkFun GPS Shield kit Schematics
SparkFun GPS Shield kit EAGLE files
EM-506 module datasheet SparkFun GPS Shield kit
GPS quick start guide tutorial
Customers who viewed this item also viewed