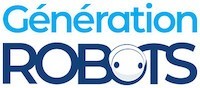 My Cart
0
item(s)
-
€0.00
There are no more items in your cart





Multi-Chassis 4WD Kit (ATV Version)
The ATV version of the Multi-Chassis 4WD Kit consists of an extremely robust all-terrain chassis that has a lightweight aluminium design. You can also add numerous robotics accessories to improve your explorer. DISCONTINUED PRODUCT
Dagu 4-wheel robot chassis: offer your robot a mobile platform
This explorer chassis is a resistant, strong and lightweight aluminium platform on which you can easily assemble your robot to transform it into a mobile explorer. It's one of a full range of robotics chassis marketed by Dagu, each meeting different types of user needs and constraints.
The Dagu ATV 4WD chassis is equipped with four 48:1 gearmotors with a metal shaft and four 78 mm diameter rubber wheels. Each of these gearmotors controls the platform's wheels independently.
You also have all the tools and accessories required for assembling the platform, plus a battery holder.
Once mounted, you'll be able to launch your robot on flat ground, soil or a deep lawn to begin your explorations.
Multi-Chassis 4WD Kit (ATV Version): a scalable all-terrain mobile robot
After assembling your robotics kit, you'll find it very easy to add a variety of sensors and accessories to the platform for a truly scalable exploration chassis, for example a radio receiver, a camera, environmental sensors or an audio recording system, whatever you wish!
This is because your aluminium chassis is equipped with numerous fixation points for attaching controllers, sensors and drivers to improve the performance and versatility of your robotics creation.
Technical specifications of the Dagu Multi-Chassis
The Multi-Chassis 4WD Kit (ATV Version) contains:

1 aluminium frame
4 x 48:1 DC gearboxes
4 x 78 mm diameter high-profile wheels
4 x M3 25 mm standoffs
6 x M3 8 mm screws
4 x M2.5 25 mm screws
4 x 2.5 20 mm screws
8 x M3 8 mm screws
8 x M2.5 nuts
2 x M3 nuts
1 holder for 5 AA batteries
1 spanner
1 screwdriver

Dimensions of the assembled kit: 178 x 135 x 78 mm
Supply: 6–9 Vdc (7.2 Vdc recommended)
Working load: 2 kg max.
No-load speed: 320 rpm @ 7.2 Vdc
No-load consumption: 140 mA
Torque per motor: 0.8 kg.cm
Resources for the DG012-ATV
Here you'll find the complete user guide for your DG012-ATV chassis:

Customers who viewed this item also viewed