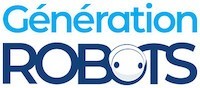 My Cart
0
item(s)
-
€0.00
There are no more items in your cart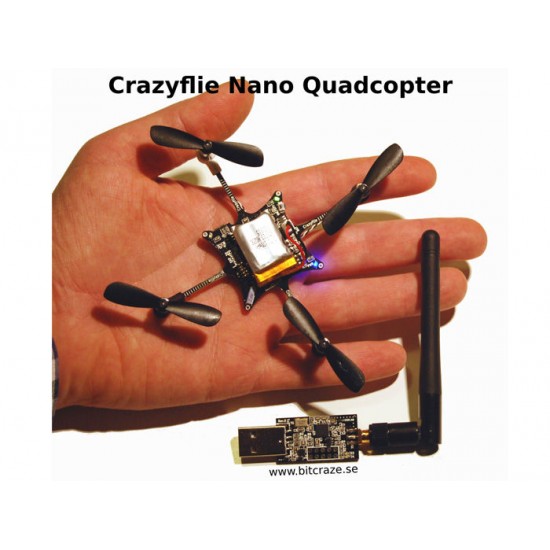 Crazyflie Nano Quadcopter Kit 10-DOF with Crazyradio (BC-CFK-02-B)
One of the smallest drones in the world! The Crazyflie Nano Quadcopter Kit 10-DOF with Crazyradio (BC-CFK-02-B) is not only a complete, open source development platform but also a kit for building a drone from scratch!
Crazyflie Nano Quadcopter Kit: modelling in all its beauty
From assembly to flying, the Crazyflie Nano Quadcopter Kit 10-DOF (with 10 degrees of freedom) will keep you busy for a good long while! This minuscule quadcopter (9 cm wingspan and weighing just 19 g!) is delivered unassembled.
Be warned, you're going to need your soldering iron (and a magnifying glass) to build your quadcopter!
We've provided a link to the full instructions to help you assemble your Nano Quadcopter in our "Resources" section, which you'll need to handle with care!
The Crazyflie mini-drone assembly kit includes:
1 Crazyflie control board
1 x 2.4 GHz Crazyradio, with 125 channels
1 x 2 dBi duck antenna
5 motor mounts
5 coreless DC motors
5 CW propellers
1 LiPo battery
1 x 1.27 mm 2x5-pin header
Create your mini-quadcopter and prepare for take-off!
Your quadcopter development platform is completely open-source: all the necessary codes are available for free download on the Bitcraze website, and from the quadcopter wiki page.
You can also add an additional connector to your drone including I2C/UART, SPI/ADC and JTAG pins to provide it with new features by adding other compatible modules.
But even without this, your Crazyflie drone will have everything it needs to take to the air without mishap. It's even equipped with ultra-powerful navigation equipment:
3-axis MEM gyroscopes
3-axis accelerometer
Altimeter
3-axis magnetometer
In short, everything you need to accurately determine the position, speed, altitude and direction of your mini quadcopter!
And, of course, with your Crazyflie Quadcopter you'll benefit from an ultra-high-performance radio guidance system (the famous Crazyradio) allowing you to control your device from up to 80 metres away.
Technical specifications of the Crazyflie drone kit
Dimensions: 90 mm wingspan (motor to motor)
Weight: 19 g
Flying time: approx. 7 min. with a 170 mAh LiPo battery
Standard micro USB connector for charging
Crazyradio range (with Crazyradio USB dongle): 80 m
Radio bootloader for wireless firmware update
32-bit MCU: STM32F103CB @ 72 MHz (128kb flash, 20kb RAM)
3-axis high-performance microelectromechanical system (MEMS) gyroscopes with 3-axis accelerometer
HMC5883L 3-axis magnetometer
MS5611-01BA03 high-precision altimeter
4-layer low noise PCB with separate voltage regulators for digital and analogue supply
2x10-pin expansion header measuring 1.27 mm in height (I2C/UART, SPI/ADC, ARM Cortex 10-pin JTAG) (not included in this kit)
Resources for the Crazyflie Nano Quadcopter Kit 10-DOF with Crazyradio
Découvrez toutes les ressources nécessaires pour l'assemblage, le développement et le pilotage de votre mini quadricoptère Crazyflie :
Assembly instructions of the Crazyflie Nano Quadcopter Kit 10-DOF with Crazyradio (BC-CFK-02-B)
Customers who viewed this item also viewed