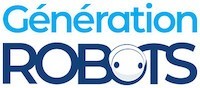 My Cart
0
item(s)
-
€0.00
There are no more items in your cart
Multi-Chassis 4WD Kit (Basic Version)
This Multi-Chassis 4WD Kit is the basic version of the new chassis by Dagu Robot. Small, light and robust, it was designed essentially for racing mobile robots. You can add all the robotics accessories you like for a DIY robotics creation you'll be proud of. DISCONTINUED PRODUCT
4-wheel robot chassis: a high-performance kit you assemble yourself
This is the "basic" version of the Dagu mobile robot chassis, which doesn't mean it's lacking in terms of performance!
It consists of an aluminium frame that's as robust as it is light, four 48:1 gearmotors with a plastic shaft and a set of four rubber wheels measuring 65 mm in diameter, just the right size for a gruelling race!
The DG012-BV Multi-Chassis 4WD Kit comes with all the necessary mounting accessories, including screws, bolts, a screwdriver and a spanner. There's also a holder for 5 AA batteries (which are not included in this kit) for powering your gearmotors.
Dagu flat mobile robot chassis: improve your robot!
The Dagu flat mobile robot chassis is particularly suitable for flat and slightly rugged terrain. It also works on lawns, provided the grass is neither too thick nor too long.
Please note that if you're looking for a chassis for an all-terrain robot, you should probably opt for the ATV version, which is another model in the Dagu series.
Once assembled, this chassis can accommodate all the accessories you can think of to improve your robot's performance and autonomy, for example sensors, actuators and controllers.
Simply choose any of the large number of slots designed for attaching your robotics accessories. The basic version of the 4WD chassis can be an excellent explorer on flat ground, a line-following robot or a great racer for taking part in competitions!
Technical specifications of the DG012-BV Multi-Chassis by Dagu
Dimensions: 165 mm x 157 mm x 65 mm
Net weight: 480 g
Operating voltage: 6–9 V (a LiPo 7.2 / 7.4V battery is ideal)
4 high-quality racing wheels (rubber)
Wheel diameter: 65 mm
4 DC motors with 48:1 gearmotor and plastic shaft
Maximum load:

On the move: 2 kg
Stationary: 9 kg (on stable support)

Suggested terrain: bitumen, earth, smooth ceramic tiles, short grass (deep lawns and sand are to be avoided)
The kit also includes:

1 aluminium frame
4 x M3 25 mm standoffs
6 x M3 8 mm screws
4 x M2.5 25 mm screws
4 x 2.5 20 mm screws
8 x M3 8 mm screws
8 x M2.5 nuts
2 x M3 nuts
1 holder for 5 AA batteries
1 spanner
Resources for the DG012-BV robotics chassis
The DG012-BV robotics chassis comes with an illustrated user guide that can be downloaded here:

Customers who viewed this item also viewed