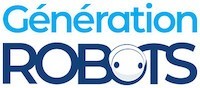 My Cart
0
item(s)
-
€0.00
There are no more items in your cart




GoPiGo Raspberry Pi University Engineering Kit
Short description: The GoPiGo Raspberry Pi University Engineering Kit is a complete package allowing you to very quickly build and program a mobile robot running under Raspberry Pi. DISCONTINUED ARTICLE.
GoPiGo Raspberry Pi University Engineering Kit: from basic to complex
The Raspberry Pi board has always been popular in technical universities. Powerful, affordable and offering multiple shields and accessories, it's easy to understand why so many teachers and students are turning to Pi for their electronic and robotics projects.
GoPiGo by Dexter Industries is a comprehensive robotics kit for Raspberry Pi containing everything you need to transform your Raspberry Pi into a robot capable of exploring, launching small projectiles, etc.
The possibilities are endless, since you can add shields and accessories for Raspberry Pi as well as a wide variety of Grove sensors compatible with the GoPiGo!
The GoPiGo robotics kit for Raspberry Pi by Dexter Industries is now available in 4 versions:
The GoPiGo Raspberry Pi University Engineering Kit contains more components than the Base Kit to ensure you have everything you need for your GoPiGo robot to function properly.
The GoPiGo Raspberry Pi University Engineering Kit:
The GoPiGo Base Kit, containing:

2 motors
2 wheels
2 encoders
1 controller for motors, drivers and additional hardware
1 holder for 8 AA batteries

A Raspberry Pi 2 model B board, the brains behind your GoPiGo mobile robot, which will communicate with the controller provided with the Base Kit (see above)
A WiFi dongle, which you can connect to your Raspberry Pi board and which serves the same purpose as the Ethernet cable, while significantly increasing your robot's mobility thanks to the wireless connection
A micro SD card with the modified Raspbian image, including all the modifications made to make your Raspberry Pi work with your GoPiGo robot (and also with BrickPi and GrovePi)
A charger, allowing you to power your Raspberry Pi while programming it without wearing down your cells and batteries
A servo package for GoPiGo, to be able to equip your robot with an ultrasonic sensor or camera
An ultrasonic range finder, to be mounted on the GoPiGo mobile robot to enable it to detect obstacles and other surrounding objects for problem-free navigation!
Technical specifications of the GoPiGo Raspberry Pi University Engineering Kit
1 x GoPiGo Base Kit
1 x Raspberry Pi 2 model B board
1 x 802.11n USB 2.0 WiFi dongle
1 x micro SD card with the modified Raspbian image
1 x charger for Raspberry Pi board
1 x servo package for GoPiGo
1 x Grove ultrasonic range finder
Resources for the GoPiGo Raspberry Pi University Engineering Kit
There are lots of guides and tutorials for the GoPiGo Starter Kit, and most are very good. Here are a few to get you started:
Projects examples for the GoPigo robot kit
Customers who viewed this item also viewed