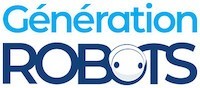 My Cart
0
item(s)
-
€0.00
There are no more items in your cart





Music Pack
The Dash robot by Make Wonder can also be an accomplished musician thanks to the Music Pack – simply use the Xylo app to program your robot, then sit back and listen!
Music Pack: the Dash robot and xylophone
The Music Pack designed by Wonder Workshop includes the Dash robot, a xylophone with 8 coloured bars (one colour per note) and a mallet that you attach to the robot so it can strike the keys.
Playing music is just one of the many possibilities offered by Dash, the new programmable robot suitable for children from the age of 5.
Dash is not only a fun and exciting toy, but also a choice educational tool for your robotics workshops, since it's a fun and easy way of teaching robotics to pupils in a school environment!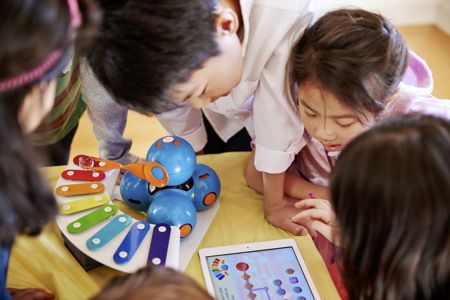 Music Pack by Wonder Workshop: get started with the Xylo app!
One of the great attractions of the Dash robot is that it can be easily programmed using very intuitive applications.
The Blockly app, for example, uses a visual Scratch-type programming language that allows children from the age of 8 to create their own control program by positioning the coloured blocks in the right order.
The Music Pack's Xylo app allows users to recreate their favourite songs and even compose their own tunes. The "scores" are then transmitted to the Dash robot, which plays them on the xylophone!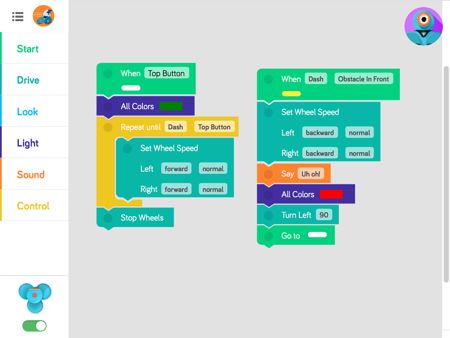 And if you're looking for other ways of using the Dash robot you can also try the Go and Path applications, which allow you to guide the robot in all its adventures.
Each app is compatible with iOS and Android, and can therefore be downloaded on your smartphone, tablet or iPhone. Below is a list of all the compatible devices.
Technical specifications of the Music Pack
Dash embedded sensors and hardware:
3 microphones
1 speaker
Eye lights: 12 white LEDs
Ear lights: RGB LEDs
Spotlight: RGB LEDs (in chest)
Tail light: Red LEDs
4 infrared transmitters
3 distance sensors: range of 30.48 cm
2 infrared receivers for detecting the Dot robot or another Dash robot
Connectivity and power:
Connectivity: Bluetooth Smart 4 / Low Energy
Built-in rechargeable lithium-ion battery
Charged by PC via micro USB or power adapter
Autonomy:

5h (play)
30 days (standby)
Supported systems and devices:
li>iOS 7.1 or newer – iPad 3 or newer, iPad Air, iPad Mini
iOS 8.1 or newer (Go app only) – iPhone 5, 5c, 5s, 6, 6+, iPod Touch 5
Android 4.4 (KitKat) or newer – Nexus 7 (2013 / 2nd generation), Nexus 9, Galaxy Note 10.1 or newer, Galaxy Note Pro 12.2, Galaxy Tab 3 8.0, 10.1, Galaxy Tab 4 7.0, 8.0, 10.1, Galaxy Tab Pro 8.4, Galaxy Tab S 8.4, 10.5, Galaxy S4, S5 (Go app only)
Weight and dimensions:
Dash dimensions: 16.99 × 18.21 × 16.1 mm
Dash weight: 798.32 g
Each Music Pack contains:
1 Dash robot
1 Dash xylophone with mallet
1 charging cable
Resources for the Music Pack by Wonder Workshop
Below are a few essential links for enjoying your Wonder Workshop Music Pack more rapidly:
Full list of compatible systems and devices for Dash & Dot
Download links for the Go, Path, Blockly and Xylo apps
Customers who viewed this item also viewed