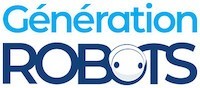 My Cart
0
item(s)
-
€0.00
There are no more items in your cart
Quadruped robot Metabot HD kit (with high quality 3D-printed parts)
Build yourself a great open source quadruped robot! With this kit, you will have in your possession all the mechanical and electronic parts to build your first Metabot. This kit also comes with high quality 3D-printed parts (polyamide).
This Metabot robotics kit comes with all the mechanical and electronic components (servomotors, small components, battery...) as well as high quality 3D printed parts (polyamide).
The Metabot project
Metabot is a robotics platform for education, research and fun!
Metabot is an open source legged robot built with commercial off-the-shelf components (servomotors, small components, battery...) and 3D printed parts, allowing this platform to be both affordable and progressive.
The 3D parts design and the software are open source, giving you the freedom to reinvent your Metabot! Metabot is a fast mobile robotics platform (35cm/s), that can move in many direction and be autonomous (~1h).
It is possible to program it using graphical editor adapted for teaching programming, but also by changing its firmware, for expert users. Metabot can be controlled with a laptop or the Metabot application for Android.
Presentation video of Metabot
Whether you are an advanced robotics engineer or a robot enthusiast, the Metabot platform allows any user to quickly get started on simple or more sophisticated projects! This robotics legged platform really is for everyone: researchers, teachers, artists or technology enthusiasts. It is easy to make it your own!
The Metabot robotics kit is available in 3 different versions:
Components kit to build a quadruped robot Metabot (without 3D parts)
HD quadruped robot Metabot kit (with polyamide 3D printed parts)
SD quadruped robot Metabot kit (with filament 3D printed parts)
Metabot was created by the start-up Rhoban System S.A.S, the LaBRI (french laboratory: Laboratoire bordelais de recherche en informatique), the association Robot Campus and Generation Robots. The project is also supported by the Aquitaine Robotics cluster and Bordeaux INP.
Metabot for the education
The Metabot platform aims to make robotics accessible to everyone, thus can be used in various projects. This legged robot is therefore a tool of choice for teachers, especially at secondary school, higher education and university level.
From the building process to the programming of different behaviours, the students involved in the Metabot project will gain new skills and knowledge in a stimulating environment. A great addition to your curriculum, especially for the technology courses and scientific curriculums!
The following themes will be discussed during a lesson Les thématiques suivantes seront abordées au cours d'un projet Metabot (construction et programmation):
Building complex machines (from secondary school)
Teaching programming (from secondary school)
Studying legged locomotion (higher education/university)
Robotization (higher education/university)
The official website Metabot explores further these themes on its "Metabot for education" page.
Metabot for the research
Metabot is an adaptable and scalable robot, the ideal platform for experimenting and prototyping!
With this open source platform, you will be able to share your programming code and with the community and test different designs.
Metabot is a basic quadruped robot that has the possibility to evolve towards different and more complex designs (thanks to its body frame made with 3D printed parts) and behaviours.
Uses and needs for quadruped robots are growing, these robotics platforms being steadier than their two-legged counterparts.
Metabot for the makers
Metabots are fun! Easy enough to assemble yet fitted with 12 servomotors, and the electronic and mechanical components are provided with good quality and strength.
The structural parts, that have to be 3D-printed, will allow you to custom your bot! It will also be simple to upgrade your Metabot with the addition of different accessories and sensors.
Everyone can share their creations (hardware and software) or ask for help on the Metabot message board: http://forum.metabot.cc. Come by and share your idea to help the Metabot community grow!
You can find below a video tutorial about Metabot programming system with blocks
Quadruped robot Metabot HD kit (with high quality 3D-printed parts)
This robotics set comes with everything you need to build your first Metabot. You will find in the box all the necessary electronic and mechanical components (servomotors, controller, cables, rivets, etc) and also the following structural 3D-printed parts in polyamide (or nylon).
Polyamide is a solid, flexible and durable, while offering a smoooth finish.
You still have the possibility to customise your Metabot by adding a replacing some structural parts. You can find here the STL files of the Metabot structural parts.
Assembling the Metabot should not take more than 3-4 hours, no soldering is required to build this robot. You can find building instructions (with photos) on the Metabot website.
You will also find on the Metabot website instructions to turn your smartphone into a Metabot controller (you can download the Metabot application for Android on the Google Play store).
If you are a more advanced user wihwing to start creating behaviours and instructions for your Metabot, you might to have a look at the Metabot GitHub: https://github.com/Rhoban/Metabot.
Materials contained in the Metabot HD kit
The list of equipment included in the kit is:
12 x OLLO Pulley-L gray
1 x OLLO Tool
30 x Metabot M3x8 bolts
10 x Metabot M4x35 bolts
250 x Short rivets
16 x Long rivets
2 x OLLO plate 5x12 white (1 piece)
4 x 3P 160 mm cables for Dynamixel XL Servos
1 x High Quality structural 3D-printed parts for the Metabot platform
Documentation and tutorials
The following resources will help you start the assembly and programming of your Metabot quadruped robot:
Customers who viewed this item also viewed