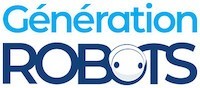 My Cart
0
item(s)
-
€0.00
There are no more items in your cart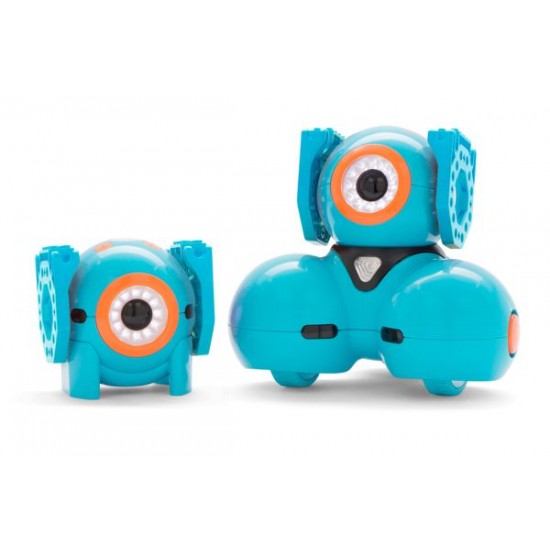 Dash & Dot Builder Pack
You can use the Dash & Dot packs to customise your programmable robots designed by Make Wonder. Take for example the Builder Pack, which provides new accessories for your 2 robots!
Dash & Dot: for learning robotics at all ages!
Dash & Dot are 2 robots designed especially for beginners by the Make Wonder start-up. For total beginners, since children can begin programming these robots from the age of 5 using the Go app, compatible with iOS and Android!
Want to create a robotics workshop for your pupils? Offer your children 2 robots capable of introducing them to the basics of programming using a Scratch-type language? Dash & Dot are 2 of the most stimulating educational tools on the market: fun, intuitive and a pleasure to use, they guide users step by step along the path to mastering the first principles of robotics.
Dash and its little friend Dot are perfectly complementary – they can communicate with each other and interact via infrared receivers and transmitters. They can also act separately, depending on the orders you send. A whole range of fascinating activities are possible with Dash & Dot, and will keep your children or pupils busy for hours... we're ready to bet you'll develop a taste for them yourself!
Upgrade your Dash & Dot robots with the Builder Pack
Dash and Dot are also scalable robots. In the Builder Pack by Make Wonder you'll find not only your 2 robots and their charging cables, but also 4 building brick connectors. These connectors are compatible with the Lego, Lego Technic, Mindstorms and Lego Hero Factory bricks.
You'll therefore be able to adapt a whole range of new accessories from the Lego world specifically for your 2 learning robots in order to customise Dash & Dot at will!
Technical specifications of the Builder Pack
Dash embedded sensors and hardware:
3 microphones
1 speaker
Eye lights: 12 white LEDs
Ear lights: RGB LEDs
Spotlight: RGB LEDs (in chest)
Tail light: Red LEDs
4 infrared transmitters
3 distance sensors: range of 30.48 cm
2 infrared receivers for detecting the Dot robot or another Dash robot
Dot embedded sensors and hardware:
1 microphone
1 speaker
Eye lights: 12 white LEDs
Ear lights: RGB LEDs
Spotlight: RGB LEDs (in eye)
4 infrared transmitters
Connectivity and power:
Connectivity: Bluetooth Smart 4 / Low Energy
Built-in rechargeable lithium-ion battery
Charged by PC via micro USB or power adapter
Autonomy:

5h (play)
30 days (standby)
Supported systems and devices:
iOS 7.1 or newer – iPad 3 or newer, iPad Air, iPad Mini
iOS 8.1 or newer (Go app only) – iPhone 5, 5c, 5s, 6, 6+, iPod Touch 5
Android 4.4 (KitKat) or newer – Nexus 7 (2013 / 2nd generation), Nexus 9, Galaxy Note 10.1 or newer, Galaxy Note Pro 12.2, Galaxy Tab 3 8.0, 10.1, Galaxy Tab 4 7.0, 8.0, 10.1, Galaxy Tab Pro 8.4, Galaxy Tab S 8.4, 10.5, Galaxy S4, S5 (Go app only)
Weight and dimensions:
Dash dimensions: 16.99 × 18.21 × 16.1 mm
Dash weight: 798.32 g
Dot dimensions: 8.61 x 8.61 x 9.5 cm (with stand, 8.61 cm without stand)
Dot weight: 167.83 g
Each Builder Pack contains:
1 Dash robot
1 Dot robot
4 building brick connectors
2 charging cables
Resources for the Builder Pack for Dash & Dot
Feel free to follow the links below to learn more about Dash & Dot and their applications:
Full list of compatible systems and devices
Customers who viewed this item also viewed