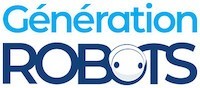 My Cart
0
item(s)
-
€0.00
There are no more items in your cart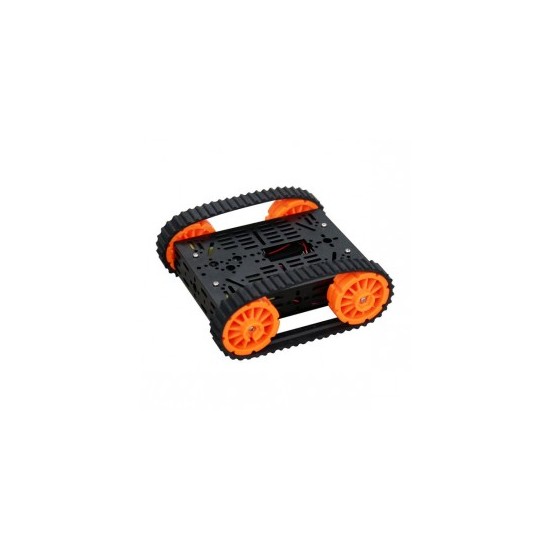 Multi-Chassis 4WD Kit (Standard Version)
Discover the new range of Dagu robotics chassis with the Multi-Chassis Tank Kit. This platform allows you to convert all your creations into tracked mobile robots thanks to a small and very robust black, aluminium chassis!
Dagu mobile robot chassis: transform your robot into a tank!
The standard version of the tank chassis consists of a compact robotics platform equipped with a very robust aluminium frame for safely carrying out numerous different exploration activities. The DG012-SV chassis is different from the DG012-ATV and DG012-BV chassis because it's tracked rather than having 4 wheels.
It therefore has only two 48:1 gearmotors with a metal shaft for operating the two caterpillar tracks driven by four 52 mm wheels.
This means the platform can move over any terrain, including sand, earth and thick grass!
DG012-SV Dagu chassis: from assembly to optimisation
The Dagu DG012-SV chassis comes in a kit, containing all the necessary components as well as the tools required to mount your robot chassis. Beware, however, because the batteries are not included!
Once assembled, you'll need various different accessories to use your robot, for example a microcontroller (an Arduino Uno board for example), a radio receiver for controlling your robotics platform remotely, and maybe some other devices that could prove extremely useful like sensors to enable your robotic mini-tank to interact with its environment, a camera or a data logger. It's completely up to you depending on your project!
In any case, you'll be safe in the knowledge that your chassis is already equipped with numerous slots and fixation points for all your add-ons.
Technical specifications of the DG012-SV Multi-Chassis
Dimensions: 157 x 149 x 60 mm
Net weight: 440 g
Operating voltage: 6–9 V (a LiPo 7.2 V battery is ideal)
2 high-quality all-terrain tracks with 4 x 52 mm diameter wheels for moving over sand and grass and in puddles
2 DC motors with 48:1 gearmotor and metal shaft
Maximum load:

On the move: 7.5 kg (on earth, test with 7.4 V 1100 mAh 10C 8.14 Wh Li-ion battery)
Not moving: 50 kg (on stable support)

Suggested terrain: earth, smooth ceramic tiles, deep grass, sand
The Multi-Chassis Tank Kit (Standard Version) includes:

1 aluminium frame
2 DC 48:1 gearmotors
4 track wheels
2 rubber tracks
4 x M3 25 mm standoffs
14 x M3 8 mm screws
2 x M3 30 mm screws
2 x M3 16 mm screws
2 x M2.5 20 mm screws
2 x M2.5 25 mm screws
2 collars for M3 10 mm screws
2 collars for M3 20 mm screws
2 x M3 nuts
4 x M2.5 nuts
2 x M3 nuts
1 holder for 5 AA batteries
1 spanner
1 screwdriver
Resources for the DG012-SV mini-tank
To make the very most of your DG012-SV mini-tank, why not take a look at its user guide:

Customers who viewed this item also viewed