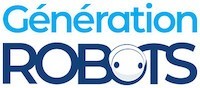 My Cart
0
item(s)
-
€0.00
There are no more items in your cart




Multi-Chassis Kit (Rescue Vehicle)
The Multi-Chassis Kit (Rescue Vehicle) is the latest addition to the wonderful family of
Dagu
multi-chassis platforms. It offers outstanding features and a remarkable mobility. Transform your robot into a tank with 4 articulated tracks, capable of climbing stairs and a variety of obstacles!
DISCONTINUED PRODUCT
Robot tank chassis: the most mobile of all the Dagu robotics platforms!
Take the standard version of the tank chassis (DG012-SV), add a pair of additional tracks and four 52 mm diameter wheels, equip them with two DC motors with 48:1 gearboxes and a metal shaft plus one servo and you get the DG012-RP chassis, the most comprehensive of all the Dagu Multi-Chassis robotics platforms!
Just as strong and compact thanks to its aluminium frame, the Rescue Vehicle tank chassis is a mobile robot that will overcome most obstacles, including a flight of stairs measuring up to 150 mm in height.
Its tracked drive system also allows it to move over a great many of what are traditionally considered difficult terrains, such as earth, sand and deep grass. Both powerful and stable, this chassis will also allow your mobile robot to carry heavy loads of up to 50 kg!
DG012-RP Multi-Chassis: create the robot of your dreams
The DG012-RP Multi-Chassis model will keep you busy for quite some time – first you'll need to mount the tank platform with its dual track system before then customising your mobile robot, so you'll have your work cut out!
Assembling your Rescue Vehicle tank chassis should pose no particular problems, since the kit comes with all the necessary parts and tools as well as an illustrated manual.
Once mounted, all that remains is for you to decide what you want to do with this mobile robot, capable even of climbing stairs. You can for example install your microcontroller on the chassis to manage all your chosen sensors and other accessories, hence increasing your mini-tank's autonomy or intelligence. We'll leave the rest to you!
Technical specifications of the DG012-RP mini-tank
Dimensions: 262 x 222 x 60 mm
Net weight: 800 g
Operating voltage: 6–9 V (a LiPo 7.2 V battery is ideal); by increasing the voltage to 9 V, you'll get maximum power
4 high-quality all-terrain tracks with 8 x 52 mm diameter wheels for moving over sand and grass and in puddles and mounting structures up to 150 mm in height
2 DC motors with 48:1 gearmotor and metal shaft
Maximum load:

On the move: 7.5 kg (on earth, test with 7,4 V 1100 mAh 10C 8.14 Wh Li-ion battery)
Not moving: 50 kg (on stable support)

Suggested terrain: earth, smooth ceramic tiles, deep grass, sand
Kit contents:

1 black aluminium chassis
2 DC motors
1 standard servo motor + holder
8 track wheels
4 rubber tracks
4 x M3 25 mm standoffs
14 x M3 8 mm screws
2 x M3 30 mm screws
2 x M3 16 mm screws
2 x M2.5 20 mm screws
2 x M2.5 25 mm screws
2 collars for M3 10 mm screws
2 collars for M3 20 mm screws
2 x M3 nuts
4 x M2.5 nuts
2 x M3 nuts
1 holder for 5 AA batteries
1 spanner
1 screwdriver
Resources for the DG012-RP Dagu robotics chassis
To begin enjoying your DG012-RP robotics chassis by Dagu as rapidly as possible, we've provided two links you might want to look at:

User guide for the DG012-RP Dagu robotics chassis

Customers who viewed this item also viewed