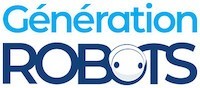 My Cart
0
item(s)
-
€0.00
There are no more items in your cart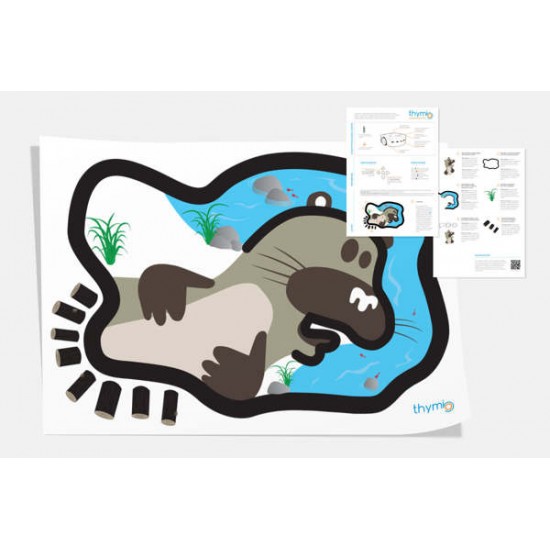 Otter Discovery Kit for Thymio II Robot
Create a great educational robotics workshop with the Otter Discovery Kit for Thymio II Robot: a fun and effective way of learning and using the VPL for programming your Thymio II mobile robot! DISCONTINUED ARTICLE.
Otter Discovery Kit for Thymio II Robot: a robotics workshop in your own home!
The Thymio II mobile robot is a small robotics platform designed for teaching that's equipped with numerous sensors allowing it to follow or avoid a black line, slalom between different obstacles and follow, or even draw, its user's hand!
100% open-source and very affordable, this robot is programmed using a VPL (Visual Programming Language) developed by Aseba Studio.
In order to show children what their robot is capable of and help them take their first steps in robotics programming, the project's creators have developed various Thymio accessories, including this Otter Discovery Kit for Thymio II Robot.
The Otter Discovery Kit includes 1 poster showing 2 tracks drawn in black, 8 logs, 1 torrent and, of course, an otter.
These different items are used in various games and fun challenges for Thymio II users, designed to teach them the robotics platform's different features and provide programming examples while having fun.
4 robotics games and 6 challenges for children!
Whether you want to introduce your child to robotics or create a true robotics course for your students, you'll be able to count on its comprehensive and totally open-source teaching materials (in French).
The Otter Discovery Kit for Thymio II Robot includes 4 games allowing children to discover the different possibilities offered by the sensors built into their mobile robot. 6 challenges have also been developed for budding robotics engineers wishing to take their first steps in the world of programming with the Aseba Studio VPL.
They can either use the robot's 6 basic behaviours, or create a custom program to guide the Thymio II through a series of fun tests, involving for example frightening your Thymio, making it follow a black trail, moving it through the torrent and avoiding obstacles!
You can also find on our website the Yeti Discovery Kit for Thymio II Robot.
Technical specifications of the Otter Discovery Kit
The kit includes:
1 A4 explanatory document (in French)
1 A1 poster (594 x 841 mm) with an overprinted silkscreen black trail for easier detection by sensors
Resources for the Otter Discovery Kit
To make your Otter Discovery Kit easier to use, we've put together various links to manuals, tutorials and download platforms:
Generation Robots Guide - How to check if your Thymio is functioning correctly ?
Explanatory document for the Otter Discovery Kit
Getting started with Thymio II
Aseba download and installation
Overview of the Aseba Studio VPL
Customers who viewed this item also viewed