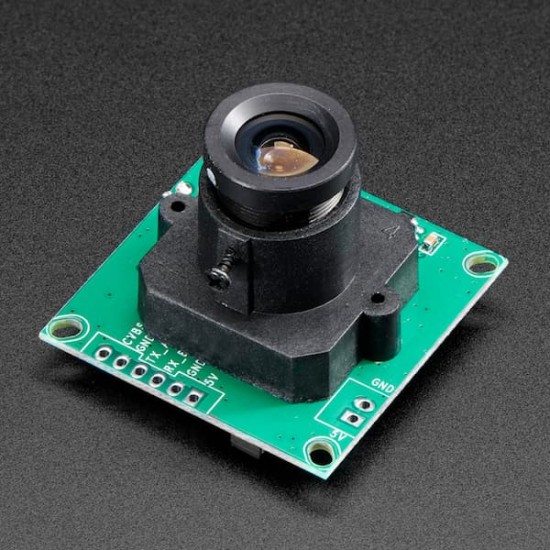 TTL JPEG Camera with NTSC Video
This tiny camera module with its motion detector can be easily integrated into your projects on Arduino Uno and Arduino Duemilanove by simply connecting it to a TTL serial port.
Including €0.01 for ecotax
Camera module with motion detector: videos and snapshots in JPEG format
This small Arduino-compatible camera module allows you to not only shoot monochrome videos to an NTSC standard, but also save colour snapshots taken from these videos in a JPEG format for easier storage on an SD card. There are 3 possible image formats (640 x 480, 320 x 240, 160 x 120). To connect your JPEG Camera with NTSC Video, all you'll need is a TTL serial port or 2 digital pins, for a default transmission speed of 38400 baud. Please note that this module is compatible with the Uno and Duemilanove versions of the Arduino board, but not with an Arduino Mega.
Any little extras? This NTSC camera is also equipped with a motion detector and has an automatic white balance, contrast and brightness adjustment system. You will however need to set the focus, depending on what you want to film or photograph!
Uses for your TTL serial port JPEG Camera with NTSC Video
This JPEG camera is a choice accessory for your projects on Arduino! It effectively allows you to create a video surveillance system that can be controlled from a distance of 10 to 15 metres, or to integrate a video module into your drone or mobile platform to film your robot's adventures. In addition, because the camera is equipped with a motion detector, you can create a project that will respond when a movement is detected by your camera. The module can also be used in an animal documentary project.
Technical specifications of the JPEG camera module with NTSC Video
Module dimensions: 32 x 32 mm
Image sensor: CMOS ¼"
CMOS pixels: 30 m
Pixel size: 5.6 x 5.6 µm
Image output format: JPEG
Automatic white balance
Automatic exposure control
Automatic gain
Electronic rolling shutter (ERS)
Signal-to-noise ratio: 45 dB
Dynamic range: 60 dB
Max. analogue gain: 16 dB
Frame speed: 30 frames/second @ 640 x 480
Progressive scan mode
Viewing angle: 60°
Monitoring distance: 10 m, 15 m max. (adjustable)
Image size: VGA (640 x 480), QVGA (320 x 240), QQVGA (160 x 120)
Baud rate: 38400 baud by default, 115200 baud max.
Supply current: 75 mA
Operating voltage: DC + 5 V
Communication: 3.3 V TTL (3 TX, RX, GND wires) on 2 mm pitch connector
Resources for the JPEG camera module with NTSC Video for Arduino
Here we've grouped together various useful links for using your NTSC camera module for Arduino:
Full tutorial for the JPEG camera module with NTSC Video for Arduino
Module datasheet for the JPEG camera module with NTSC Video for Arduino
Digital signal processor management tool (Windows)
Customers who viewed this item also viewed