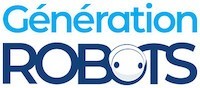 My Cart
0
item(s)
-
€0.00
There are no more items in your cart





USB Webcam
This is a small plug and play webcam that is child's play to use and which you can either include in your electronics projects by plugging it into your board, or simply connect to your computer. DISCONTINUED PRODUCT
USB Webcam: ideal for starters!
Easily connected to your board or your PC via its 3' retractable USB cable, the SEN-11957 USB Webcam can be up and running in the blink of an eye. It provides images at a resolution of up to 1024 x 768 (XGA). The great advantage of this mini camera? Unlike many similar models, it really is compatible with Linux and can therefore run on a Raspberry Pi or a pcDuino.
On its own, this webcam is not Arduino-compatible. You'll therefore need to use a USB shield and write an appropriate program for your drivers.
Uses for your USB Webcam
This mini USB webcam allows you to record videos easily, and to carry out projects in which motion tracking and object detection and tracking are of the utmost importance. You can also use it as a time-lapse camera, as you can see in the following video made using the SEN-11957 USB Webcam and a Raspberry Pi:
Please note, this webcam is not suitable for photography or for shooting films.
Technical specifications of the USB Webcam
Linux-compatible
Retractable 3' USB-A cable (914.4 mm)
Max. resolution: 1024 x 768
Tracks movements
Detects objects
Customers who viewed this item also viewed