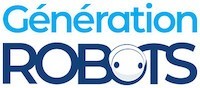 My Cart
0
item(s)
-
€0.00
There are no more items in your cart
Koala 2.5 Mobile Robot
Sporty and versatile, the Koala 2.5 by K-Team is a very easy to use mobile robot, ideal for many practical applications! DISCONTINUED ARTICLE.
The Koala 2.5 Mobile Robot by K-Team: an all-terrain mobile robot with numerous advantages!
Programmable under Linux, simple to use, but equipped with a powerful computer, the Koala 2.5 Robot by K-Team has numerous features you'll enjoy using, in the same vein as the Khepera robot.
All-terrain and very compact, the Koala 2.5 can be driven both inside and outside thanks to its 6 sturdy wheels and its high-quality brushed motors. Moreover, it can be easily navigated due to its on-board GPS system and 12 sensors fully dedicated to navigation and to rendering this mobile robot autonomous.
It's also a scalable robot, designed with multiple fixation points so you can add all the extensions you want such as sensors and actuators, whatever you wish! This makes it an ideal testing ground for students and robotics enthusiasts alike. You can also carry it from one laboratory to another, or from one classroom to another, with no risk of damaging it!
Possible uses of the programmable Koala 2.5 Mobile Robot
This intermediate-sized mobile robot was created especially for real-world applications, to be of use in everyday life. It's also designed for study and experimentation in the fields of robotics and electronic programming:
Telemanipulation
Mobile robot for mapping, path planning and navigation study
Object search and recognition
Surveillance
Object transport
Mobile robotic guide for tourist excursions
Robotics and electronics demonstrations
Artificial intelligence research
Technical specifications of the Koala 2.5 Mobile Robot
Processor: embedded Pico-ITX board with Linux Ubuntu, dual-core Intel Atom N2800 1.86 GHz with Hyper-Threading
RAM: 4 GB
Memory: 40 GB of SSD
Motors: 2 brushed DC motors with incremental encoders
Sensors:

9 x ultrasonic sensors for navigation
1 x 3-axis accelerometer
1 x 3-axis gyroscope
1 x 3-axis magnetometer

Navigation: on-board GPS
Supply: NiMH battery 4 Ah @ 12 V or LiPo battery 5 Ah @ 11.1 V
Autonomy: 3–4 hours
I/O:

1 VGA connector
1 microphone input
1 output line
1 I2C (3.3 V)
Open-drain output (max. 30 V)
4 I/Os (0–3.3 V): configurable for a servo motor (PWM)

Available voltage:

3.3 V – 1.85 A
5 V – 1.85 A
12 V – 3 A direct from the battery
Resources for the Koala 2.5 mobile robot by K-Team
To enjoy your Koala 2.5 Mobile Robot by K-Team to its full potential, make sure you take a look at these links:
Koala 2.5 mobile robot User Guide (EN)
Customers who viewed this item also viewed