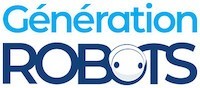 My Cart
0
item(s)
-
€0.00
There are no more items in your cart
Magician Chassis
Easily assembled and quickly implemented, the DG007 Magician Chassis will prove an essential basis for your Dagu mobile robot. DISCONTINUED
DG007 2-wheel robot chassis: the starting point for your Dagu robot!
The DG007 2-wheel robot chassis is one of the most important components of the Dagu mobile robot. The Magician Chassis for Dagu robots consists of:
2 gearmotors
2 wheels with rubber tyres
1 omni wheel
1 battery holder
Tools and accessories needed for assembly
The chassis comes unassembled, along with illustrated assembly instructions.
Uses for the Dagu robot chassis
The Magician Chassis is ideal for use in your Dagu robot projects. Once your chassis has been assembled, you can equip it with sensors and actuators to make it more intelligent and autonomous.
It can be remote controlled, so together you can take part in some of the most challenging competitions (speed, line-following, etc.). Why not check out all the Dagu-compatible components available from our site now to being building your own programmable robot!
Technical specifications of the Magician Chassis
Supply: 4.5 Vdc (batteries not included)
Speed: ±1.3 km/h @ 6 Vdc
Dimensions: 175 x 110 x 70 mm
Wheel diameter: Ø65 x 26 mm
Torque: 800 gf.cm
No-load speed: 90 ±10 rpm
Starting current: 1 A
Resources for the DG007 Dagu Magician Chassis

Illustrated assembly instructions for the Magician Chassis by Dagu
Customers who viewed this item also viewed