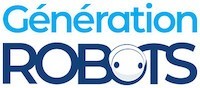 My Cart
0
item(s)
-
€0.00
There are no more items in your cart
Assorted 3-Wire Extension Cable Pack
Parallax Inc. |
A-000000-01431
This pack of thirty 3-wire extension cables by
Parallax
will prove extremely useful when wiring your projects, however big or complex!
Including €0.02 for ecotax
3-Wire Extension Cable Pack by Parallax: a comprehensive, high-quality assortment
The Assorted 3-Wire Extension Cable Pack by Parallax contains an assortment of 30 different-sized cables that can be adapted to all your projects. Each cable is equipped with 3 ground-power-signal pins fully suited to use with a wide variety of Parallax boards and sensors equipped with this type of port.
To guarantee their strength and flexibility, these 30 Parallax extension cables have been covered with a pliable and resistant silicone material – one thing's sure, these cables have been made to last!
And just to make absolutely certain you really have all the extension cables you need, this Assorted 3-Wire Extension Cable Pack by Parallax comes with three 40-pin male/male headers to transform the ends of your cables into male/female or male/male extension cables.
A choice of lengths to ensure you have just the right Parallax 3-pin cable for your project!
To prevent your project wiring from becoming a tangled headache, it's very important you choose the right length of cable. This pack therefore includes some very short cables measuring barely more than 10 cm for your most compact projects, and some very long cables (from over 50 cm to over 91 cm long) for your more sprawling creations. Never again will you lose yourself in your connections or fail in designing an object, however complex your prototype and regardless of its purpose.
Technical specifications of the Parallax Assorted 3-Wire Extension Cable Pack
30 x 22 AWG 3-wire cables (ground, power, signal):

3 x 10.16 cm cables
3 x 15.24 cm cables
10 x 20.32 cm cables
5 x 30.48 cm cables
2 x 40.64 cm cables
2 x 50.8 cm cables
3 x 60.96 cm cables
2 x 91.44 cm cables

Pins spaced 2.54 mm apart (0.1")
Female/female connectors
The pack also includes three 40-pin male/male headers
Silicone-covered cables
RoHS compliant
Customers who viewed this item also viewed