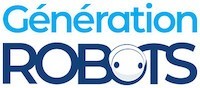 My Cart
0
item(s)
-
€0.00
There are no more items in your cart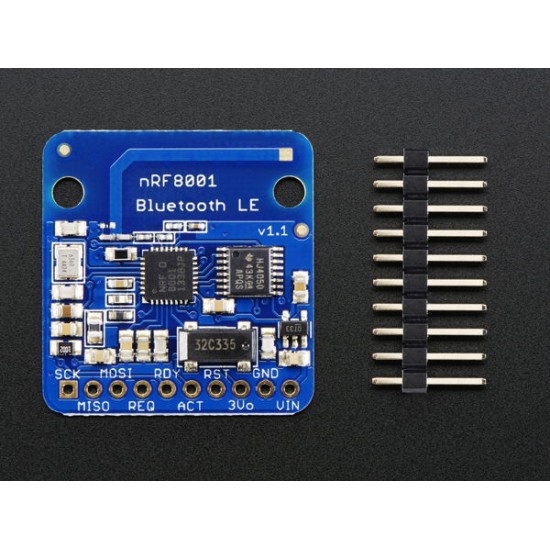 Bluefruit LE Bluetooth Low Energy (BLE 4.0) nRF8001 Breakout, v1.0
The Bluefruit LE Bluetooth Low Energy (BLE 4.0) nRF8001 Breakout development board is a BLE module allowing you to establish a communication between your microcontroller and any compatible iOS or Android device. DISCONTINUED PRODUCT
How does the nRF8001 Bluetooth LE module work?
This Adafruit module, integrating a Nordic nRF8001 low-consumption Bluetooth connection, simulates a UART serial port to establish a bidirectional ASCII communication between the microcontroller to which it's connected and the compatible device (iOS or Android 4.3).
The Adafruit BLE 4.0 module is compatible with a wide range of microcontrollers functioning under 3.3 and 5 V and possessing an SPI protocol. So you can use this module safely with your Arduino!
Information can be received and transmitted at a distance of up to 10 m – it's up to you to decide what information you want to send, and what you want to do with the information received at either end of the line.
Create your own application with the nRF8001 Breakout module
You can use a pre-existing application to establish a Bluetooth LE connection between your device and your electronic project. Adafruit has notably developed an application for iOS for Arduino called Adafruit Bluefruit LE Connect. Adafruit has also proposed a similar application for Android, and there is an application created by Nordic capable of performing this same function.
You can nonetheless embark on this great adventure by creating your own application, while also developing a project on Arduino requiring a Bluetooth interface. This can prove a real challenge for programming enthusiasts wanting to put their talent to the test!
Technical specifications of the Bluefruit LE (BLE 4.0) nRF8001 development board
Operating voltage: 3.3–5 V
Bluetooth connection: Nordic nRF8001
Transmission mode: SPI
Range: 10 m
Thickness: 0.8 mm
Weight: 1.8 g
Compatible devices:

iOS 7: iPhone 5 (any model), iPhone 4S, iPad Air, iPad (3rd generation or later), iPad mini (any model) and iPod touch (5th generation or later)
Android 4.3 devices with BLE hardware: Nexus 4, Nexus 7, Samsung Note 3 and more
Windows 8.1 with built-in Bluetooth 4.0 or USB dongle
Mac OSX 10.9.2 with built-in Bluetooth 4.0 or USB dongle
Linux with BlueZ 5.1 with built-in Bluetooth 4.0 or USB dongle
Resources for the Bluetooth BLE module by Adafruit
Below are the various guides and examples provided to help you familiarise yourself with the Bluetooth Low Energy technology, the BLE module by Adafruit and its possible real-life applications:
Introduction to Bluetooth Low Energy
Customers who viewed this item also viewed