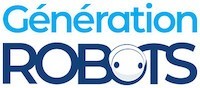 My Cart
0
item(s)
-
€0.00
There are no more items in your cart

GPIO Block for Intel® Edison
Your Intel® Edison board gives you access to 70 GPIO connectors. The GPIO Block for Intel® Edison is the ideal development board for using your I/Os on a breadboard! DISCONTINUED ARTICLE.
GPIO Block for Intel® Edison: your Intel® Edison's development block
The Intel® Edison board is an ideal and comprehensive computing platform for fans of embedded electronics, the Internet of Things and home-automation creations. Not only does it offer a lot of RAM and flash memory space, but it's also equipped with a WiFi module and a Bluetooth Low Energy module to multiply your project's communication possibilities.
Whereas the Raspberry Pi B+ offers 27 GPIO pins on a standard 0.1" (2.54 mm) connector, the Intel® Edison board has 70 GPIO pins, including the I2C, UART, SPI, I2S and PWM pins you'll need for your creations.
And to make these various pins more accessible for your prototyping operations, SparkFun has included a GPIO development board as part of its range of stackable blocks. Connecting your Intel® Edison microcontroller to your GPIO Block is child's play!
GPIO Block for Intel® Edison: your Intel® Edison's GPIO extension
The SparkFun GPIO Block gives you access to all your Intel® Edison's basic GPIO pins, as well as the PWM and UART2 I/Os.
For each of these I/Os, you can select a 3.3 V or VSYS output voltage. The GPIO extension block also gives you access to the 3 power rails available on the Intel® Edison board (3.3 V, 1.8 V and VSYS). In addition, the GND pin is available for prototyping operations.
Technical specifications of the GPIO Block for Intel® Edison
Intel® Edison compatible SparkFun GPIO block
GPIO, PWM and UART pins
3.3 V, 1.8 V, VSYS and GND pins
Resources for the GPIO Block for Intel® Edison
Explore all the following links and familiarise yourself with the DEV-13038 Block:
Schematic for the GPIO Block for Intel® Edison
EAGLE files for the GPIO Block for Intel® Edison
Connection guide of the GPIO Block for Intel® Edison
Software download for Intel® Edison
Customers who viewed this item also viewed