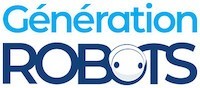 My Cart
0
item(s)
-
€0.00
There are no more items in your cart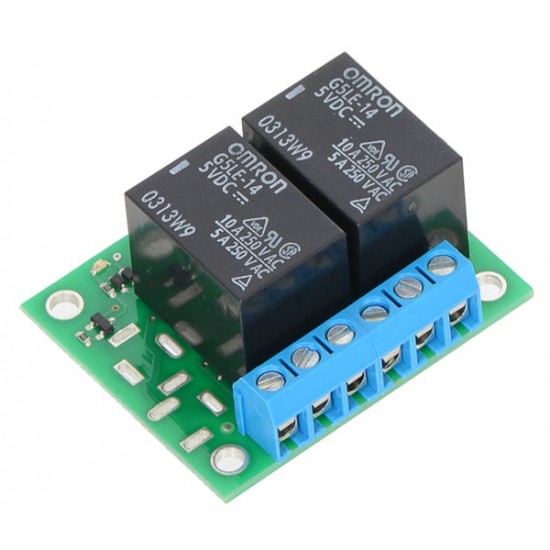 12 Vdc 2-Channel SPDT Relay Carrier for SPDT Switches (assembled)
Pololu Robotics & Electronics |
A-000000-01704
The Pololu 12 Vdc 2-Channel SPDT Relay Carrier allows you to control 2 single pole, double throw switches (SPDT). It comes already assembled.
Including €0.01 for ecotax
Overview of the 12 Vdc 2-Channel SPDT Relay Carrier for SPDT Switches (assembled)
Pololu has designed a 2-channel relay carrier equipped with 2 SPDT switches. In practice, the switch occurs when a voltage greater than 2.5 V is applied to the input. Status indicator LEDs inform you when each relay is triggered.
In its assembled version, the Pololu Basic 2-Channel Relay Carrier consists of the relay module and the board in which it's embedded. You have 7 male 0.1" control pins arranged as follows, from left to right and bottom to top:
2 GND pins
2 VDD pins
1 EN1 pin and 1 EN2 pin
1 EN1 pin
The relay is powered by the GND and VDD pins, while the digital signals are transmitted via the EN1 and EN2 pins. You can therefore connect one 4-pin cable or two 3-pin cables for various uses.
The assembled board also has two 3-pin screw terminal blocks. The spacing of the various pins means the board is compatible with most perfboards and breadboards.
The carrier board also has 4 mounting holes compatible with no. 4 and M3 screws.
Worth knowing about the 12 Vdc 2-Channel SPDT Relay Carrier for SPDT Switches (assembled)
Although, in theory, it's possible to work with an output voltage equal to 30 Vdc on this 2-Channel Relay Carrier, you should perform this type of operation with great caution. Always use the appropriate equipment and protective gear for handling this type of voltage. These operations must be carried out only by those with a solid knowledge of electricity.
Technical specifications of the 12 Vdc 2-Channel SPDT Relay Carrier for SPDT Switches (assembled)
Dimensions: 45.72 × 38.10 × 22.86 mm
Weight: 33 g
Supply: 12 Vdc
Switching voltage: > 2.5 Vdc
Outputs: 2 x 1 RT 10 A / 250 Vac
Resources for the 12 Vdc 2-Channel SPDT Relay Carrier for SPDT Switches (assembled)
Below you'll find various sources of technical information to teach you more about the 12 Vdc Relay Carrier by Pololu:
Omron G5LE 10A power relay datasheet
Customers who viewed this item also viewed