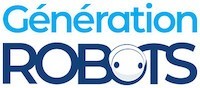 My Cart
0
item(s)
-
€0.00
There are no more items in your cart


RS027 Mini Driver
The RS027 Mini Driver is a controller for two DC motors with currents up to 2.5 A, but can also drive your servo motors and sensors. It is compatible with Arduino.
Arduino-compatible RS027 Mini Driver: for your DC and servo motors
The RS027 Mini Driver was initially designed for controlling two brushed DC motors. It's compatible with the Arduino development environment and an Arduino NG board (or older, provided it's compatible with the ATmega8A microcontroller).
Each motor can be controlled with currents up to 2.5 A. This board also allows you to control up to 8 servos and/or sensors by using its lateral outputs (D2, D3, D4, D5, D6, D11, D12 and D13). Plus you have 6 analogue inputs.
Finally, it's worth pointing out that by removing the 4 jumpers allotted for the two motors you'll free up 4 additional digital I/Os: D7, D8, D9 and D10.
Powering with the ATmega8A controller
There are 2 ways of powering your motors, servos and sensors using the ATmega8A controller:
The +5V mode allows you to power your sensors and certain servos (provided they're not too power hungry) from the 5 V regulator;
The +Bat mode allows you to power your servos and motors directly from the battery, for currents of up to 9 V.
Technical specifications of the RS027 Mini Driver
Required power supply: 5–9 Vdc
Max. current @ 5 V: 500 mA
Microcontroller: ATmega8A with Arduino bootloader
Inputs/outputs:

6 analogue inputs
8 digital inputs/outputs for sensors/servos

Mini-USB interface and ISP socket
Reverse-polarity protected
Reset button and LED indicators
Dimensions: 62 x 30 x 15 mm
Resources for the RS027 Mini Driver
Any questions or doubts on how to use your RS027 Mini Driver? You should quickly find everything you need in the documentation we've provided for you!
Customers who viewed this item also viewed