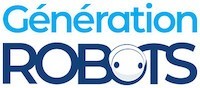 My Cart
0
item(s)
-
€0.00
There are no more items in your cart


Bluno Mega 1280 Bluetooth 4.0 Microcontroller for Arduino
This latest addition to the Bluno series by DFRobot, the Bluno Mega 1280, is a microcontroller offering a Bluetooth 4.0 access for all your projects on Arduino Mega, along with a range of other features! DISCONTINUED PRODUCT
Bluno Mega 1280: the BLE microcontroller made for Arduino Mega!
Lots of Arduino users will have already found the Bluno microcontroller released in 2014 useful for creating projects incorporating the Bluetooth Low Energy technology. This year, the Bluno Mega 1280 is set to change the lives of Arduino Mega enthusiasts!
Equipped with an ATmega1280 microcontroller and TI CC2540 BT 4.0 chip, this board is fully compatible with both the software and hardware of your Arduino Mega board.
You'll therefore be able to connect all your projects designed on Arduino Mega 1280 to this Bluetooth microcontroller for wireless programming via your Bluetooth connection (obviously)! Bluetooth HID and AT configuration commands are also supported.
In addition, you have 54 digital I/O ports, including 14 PWM outputs, 4 UART serial ports and 16 analogue inputs. And if you're looking for additional memory space, the Bluno Mega 1280 has also covered its bases with SRAM, flash and EEPROM!
Bring all your projects to life with a Bluetooth 4.0 microcontroller
Bluetooth 4.0 (also called Bluetooth Low Energy, or BLE) is the new data transmission technique that allows you to exchange the same amount of data as with Bluetooth 3.0 while consuming a great deal less energy.
The world of mobile telephony has also succumbed, meaning you can use your Bluno Mega 1280 microcontroller with your iPhone, and an increasing number of smartphones are equipped too.
If you use an iOS or Android system, you'll therefore be able to exchange data with your project without consuming too much energy, a real advantage for those wanting to create small connected objects (bracelets, watches, e-clothing, etc.).
Technical specifications of the ATmega1280 microcontroller by DFRobot
Microcontroller: ATmega1280
Clock frequency: 16 MHz
Transmission distance: 70 m (open space)
Wireless programming on Arduino via Bluetooth BLE
Supports Bluetooth HID
Supports transparent transmission via serial port
AT commands for BLE debugging and configuration
Master-slave switching
On-board TI CC2540 BT 4.0 chip
Operating voltage: 5 V
Recommended external input voltage: 7–12 Vdc
External input voltage (range): 6–20 Vdc
Digital I/Os: 54 (14 PWM outputs)
Analogue inputs: 16
I/O current: 40 mA
Flash memory: 128 kB (4k for the bootloader)
SRAM: 8 kB
EEPROM: 4 kB
Dimensions: 108 x 54 mm
Resources for the Arduino Mega microcontroller
Don't leave before downloading all the necessary documents for using your DFRobot microcontroller for Arduino Mega!
Customers who viewed this item also viewed