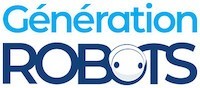 My Cart
0
item(s)
-
€0.00
There are no more items in your cart



Bluno Bluetooth 4.0 Microcontroller for Arduino Uno
The Bluno is a microcontroller designed for projects integrating the Bluetooth 4.0 technology. It combines an
Arduino Uno board
and a Bluetooth 4.0 module (BLE) in a single piece of hardware.
Including €0.01 for ecotax
Bluetooth + Uno = Bluno!
If you'd like to stick with the Arduino Uno hardware and software environment when developing projects via your smartphone or iPhone, this Arduino Uno Rev. 3 compatible microcontroller developed by DFRobot is what you need.
It includes an ATmega328 processor and an on-board TI CC2540 BLE chip, and can be used with all Bluetooth 4.0 compatible devices.
The DFR0267 Bluno Microcontroller also offers the same features as those found on the Arduino Uno Rev. 3 board: I/Os, memory space, USB connections, it has it all!
The open-source application available on iOS and Android (with BLE compatible devices) will allow you to develop and change your Bluetooth 4.0 platform as the mood takes you.
If you're looking for a more powerful Bluetooth microcontroller for a more ambitious project, DFRobot has also developed the Bluno Mega 1280. This one combines an Arduino Mega board with an ATmega1280 processor and a Bluetooth 4.0 module.
Bluno board: the prototyping platform dedicated to Bluetooth 4.0
The Bluno board allows you to connect numerous Bluetooth 4.0 compatible modules to your project and to establish a real-time communication consuming very little energy.
Bluetooth 4.0 is ideal for creating small smart objects capable of transmitting and receiving data through wireless communication. Good examples include medical monitoring devices and connected objects allowing you to track your sports performance!
Technical specifications of the Bluno Bluetooth 4.0 Microcontroller for Arduino Uno
On-board BLE chip: TI CC2540
Wireless programming via BLE
Supports Bluetooth HID and AT configuration commands
Transparent communication via serial link
Easy BLE software update
Supply: USB or external (7–12 Vdc)
ATmega328 microcontroller
Clock frequency: 16 MHz
Bootloader: Arduino Uno (disconnect all BLE devices before uploading a new program)
Arduino Uno compatible ports
Flash memory: 32 kB
SRAM: 2 kB
EEPROM: 1 kB
14 I/O pins including 6 PWM
6 analogue inputs
Current per I/O: 40 mA
SPI, I2C and serial bus
USB B connector
Size: 60 x 53 mm
Weight: 30 g
Resources for the Bluno Microcontroller by DFRobot
Below you'll find technical documentation and download links to help you get quickly started on your first projects with the DFRobot Bluno!
Customers who viewed this item also viewed