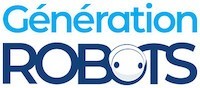 My Cart
0
item(s)
-
€0.00
There are no more items in your cart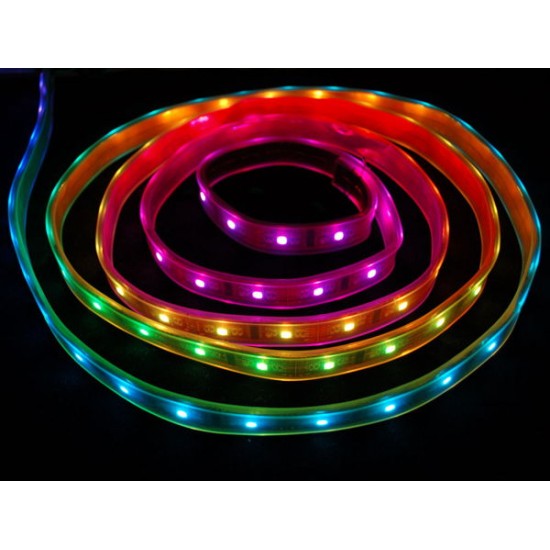 Digital Weatherproof 32 LED/Metre Strip
The LDP8806 Digital LED Strip offers 32 LEDs per metre that can be controlled individually from your Arduino for all your bright and colourful DIY projects! DISCONTINUED PRODUCT
Digital Weatherproof LED/Metre Strip: 32 individually configurable LEDs per metre!
The LDP8806 RGB LED Strip comprises 32 LEDs per metre in reels measuring 5 metres. Each end of the reel is equipped with a 4-pin JST SM connector for easy connectivity. Its great advantage? The LEDs in this strip are addressable, meaning you can configure the colour of each one with a 7-bit PWM precision (21-bit colour/pixel), making it possible to create a wonderful multi-coloured rainbow – as you can see for yourself!
Once you've configured each LED (colour and brightness), the LDP8806 chip integrated to control each LED takes over and manages the PWM signals for your microcontroller. You don't need to devote your board to the management of your LED strip, so you can use it for something else entirely!
Digital Weatherproof 32 LED/Metre Strip: flexible and adaptable for use in all your projects
You can roll and twist each segment of the LED strip as you like since it's made of a flexible PCB material, plus you can cut your strip after every second LED by following the cut lines. The material is therefore particularly suitable for all your wearable electronics projects and objects.
Delivered with a waterproof sheathing (IP65), the LED strip can also brave the weather to illuminate outdoor scenes.
Please note before ordering your strip that each reel measures 5 metres long, but you can also order your LED strip by the metre. We should however point out that you'll only receive 2 JST connectors if you order a complete reel. Depending on where the strip is cut, it's quite possible that you'll receive none at all, in which case you'll have to make sure you're equipped with the necessary connectors!
Technical specifications of the Digital Weatherproof 32 LED/Metre Strip
Dimensions: 16.5 mm (width) x 4 mm (thickness) x 62.5 mm (length of each segment)
32 LEDS per metre, with cut lines after each segment of 2 LEDs
Removable IP65 weatherproof casing
Consumption: max. 5 V @ 120 mA per segment (with all LEDS set at full brightness)
Supply: 5 Vdc (do not exceed 6 Vdc), not reverse-polarity protected
2 common-anode RGB LEDs per segment, individually controllable
LED wavelengths: 630 nm / 530 nm / 475 nm
4-pin JST SM connector (2 connectors, 1 at each end of the reel)
Sold by the metre (1 reel = 5 m)
Resources for the Digital Weatherproof 32 LED/Metre Strip
Take a look at this Arduino code library and complete tutorial (connections, programming, sample applications) for your Weatherproof LED Strip:
Arduino library for the Digital Weatherproof 32 LED/Metre Strip
Full tutorial for the Digital Weatherproof 32 LED/Metre Strip
Customers who viewed this item also viewed