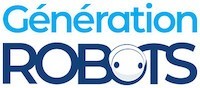 My Cart
0
item(s)
-
€0.00
There are no more items in your cart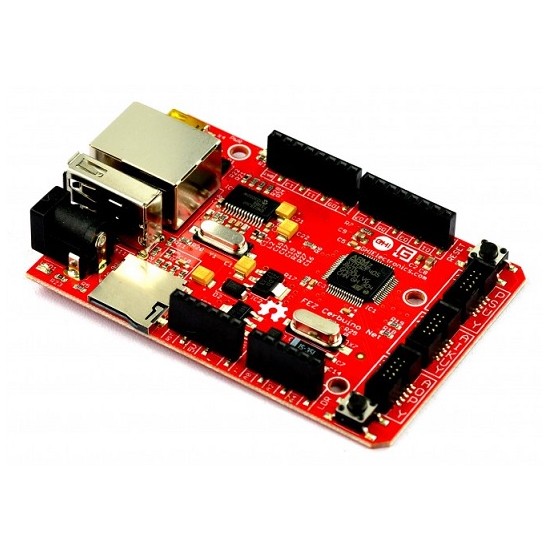 Gadgeteer FEZ Cerbuino Net
100% open-source with its .NET Micro Framework programming environment and fully compatible with the .NET Gadgeteer modules, the FEZ Cerbuino Net board can also be used with Arduino – what more could any OS environment expert possibly ask for?!
DISCONTINUED PRODUCT
FEZ Cerbuino NET: Arduino and Gadgeteer compatible
The FEZ Cerbuino NET board is one of the best boards around for programmers in search of fully open-source hardware and software, and of a plug and play programming board compatible with just about all the .NET Gadgeteer modules available on the market.
The Gadgeteer FEZ Cerbuino NET board has 3 extremely versatile sockets compatible with 9 different socket types.
The FEZ Cerbuino has numerous connectors (Ethernet, microSD and even a USB host) plus an extremely efficient processor for rapid prototyping and evaluation operations. Thanks to the Microsoft Visual Studio development environment, you can program your own applications using C# or Visual Basic.
To top it all, your FEZ Cerbuino board is also compatible with Arduino, allowing you for example to connect Arduino shields to one of the board's sockets!
What else do I need to know about the FEZ Cerbuino NET?
If you want to connect a shield to your Gadgeteer FEZ Cerbuino NET board, you'll probably have to put some adhesive tape over the board's USB and Ethernet connectors, because they can cause communication problems between the shield and your FEZ Cerbuino NET.
In order to use your Gadgeteer FEZ Cerbuino NET board's RTC clock, you'll need to connect a 32.768 KHz quartz crystal with a load capacitance of 6 pF between PC14 and PC15.
Please also note that there is an error on one of the board's sockets (socket 1), since it is in fact a PSUX type socket and not a PSUY.
Technical specifications of the FEZ Cerbuino board
168 MHz 32-bit Cortex-M4 processor
Core system: Cerberus chipset
System platform: .NET Micro Framework (NETMF)
User available flash: 384 kB
User available RAM: 104 kB
GPIO: 35
PWM: 14
Analogue inputs: 10
UART: 2
SPI/I2C communication
Network: Ethernet TCP/IP
CAN bus
Analogue outputs: 2
USB client: for debugging only
USB host
1-wire bus
Real time clock
Supported image format: BMP
Memory cards: yes
File systems: FAT16/FAT32
Operating temperature: 0–70 °C
Dimensions: 55.9 × 81.3 × 19.6 mm
Weight: 28 g
RLP: yes
RLP RAM size: 4 kB
Gadgeteer compatible sockets: 3
Gadgeteer socket types: Y (x 2), A (x 2), I, K, O, P (x 2), S, U (x 2), X
Resources for the CRBNT-GB-473 Gadgeteer board
Below are some documents you can read and download to help you get started with your Gadgeteer CRBNT-GB-473 FEZ Cerbuino NET board!
Customers who viewed this item also viewed