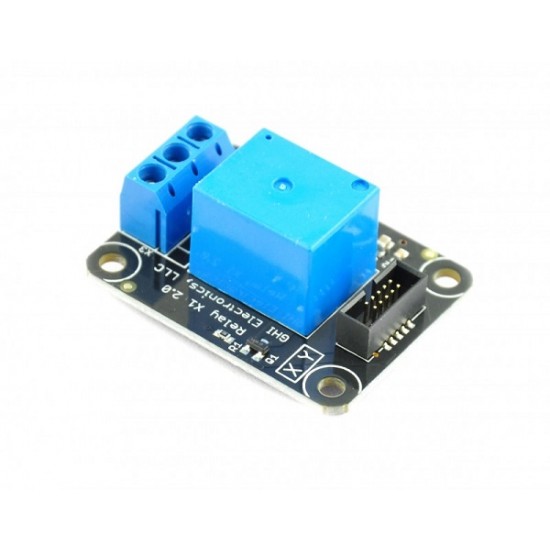 Gadgeteer Relay X1 2.0 Module
The new version of the Gadgeteer relay X1 module, drivable from your GHI Electronics board, is capable of controlling voltages up to 250 Vac or 30 Vdc, opening up a whole new range of possibilities!
DISCONTINUED
Control high voltages with the Gadgeteer Relay X1 2.0 Module:
Operating much like a switch, the Gadgeteer relay X1 2.0 module is able to control both alternating and direct voltages. Simply connect it to the X or Y socket of your Gadgeteer electronics board, and let it work: it will provide voltages up to 250 Vac (10A) or 30 Vdc (20 mA) with unnerving simplicity!
Revamped for added security
Gadgeteer modules version 1.3 and older had a major design flaw making them dangerous to use with high voltages. This is no longer a problem with the X1 2.0 module! But please, do not engage in using high voltages if you're not absolutely sure what you're doing. Consult an electrician if in doubt!
Technical specifications of the GHI Electronics RLYX2-GM-531 module
X or Y socket (GPIO 3 or 7)
5V compatible
Relays: 10A-250 Vac; 10A-30 Vdc
Consumption: 0 @ 3.3V; 20 mA @ 5V
Dimensions: 32 × 42 × 19.2 mm
Weight: 57g
Comes with a Gadgeteer cable
Complies with the RoHS standard
Resources for the relay X1 2.0 module
Clear any doubts: check out the complete schematic for the relay X1 2.0 module!
Gadgeteer Gadgeteer Relay X1 2.0 reference schematic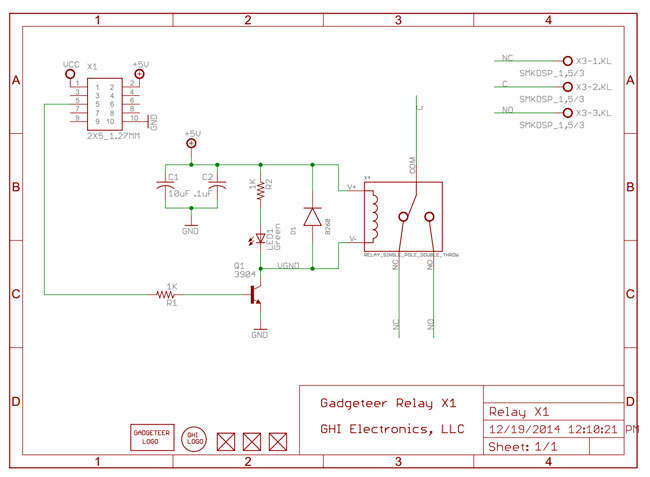 Customers who viewed this item also viewed