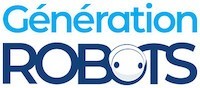 My Cart
0
item(s)
-
€0.00
There are no more items in your cart



Pixy Adapter for Mindstorms EV3 or NXT
Calling all NXTCam and Pixy Camera fans! The Pixy Adapter for EV3 or NXT is the ideal interface for connecting your favourite video recognition module to your mobile robot controllers! DISCONTINUED ARTICLE.
Pixy Adapter: top-of-the-range video camera support
As you probably know, video recognition modules are extremely useful for making a Lego Mindstorms NXT or Lego Mindstorms EV3 creation even more intelligent and autonomous. In particular the CMUcam5 PixyCam sensor, which allows robots to recognise up to 7 different colours without monopolising a microprocessor.
Mindsensors now offers a truly effective and easy-to-use robot controller/video recognition module communication interface, a versatile adapter opening up multiple possibilities.
It allows you to communicate with your robot's controllers using an I2C-compatible protocol as well as with PixyCam thanks to a serial communication protocol. Its ADPA technology also means you can connect it with several sensors on the same NXT communication bus.
Pixy Adapter: compatible with Mindstorms EV3 and NXT
It doesn't matter which you prefer, the NXTCam-compatible Pixy Adapter allows you to make full use of your camera for Mindstorms EV3 or NXT:
Line tracking: create a great line-following robot and organise crazy races between several robots
Robot football: your robot will be able to follow an infrared RoboCup ball with the NXTCam
Distance measuring: your creation will be able to estimate its distance from an object using the NXTCam
Technical specifications of the Pixy Camera Adapter
Communication with controllers: I2C-compatible protocol
Communication with PixyCam: serial protocol
Integrated ADPA: the adapter can work with one or more sensors connected to the same NXT communication bus
Adapter supplied without the Pixy camera
Compatible with NXTCam programming interfaces (v3 and v4)
Compatible with the EV3-G programming environment for EV3 and NXT bricks
Resources for the Pixy Adapter
To make sure you don't waste time finding your way around your Pixy Adapter for EV3 and NXT, we've provided everything you'll need here!
Customers who viewed this item also viewed