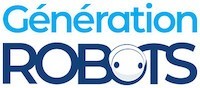 My Cart
0
item(s)
-
€0.00
There are no more items in your cart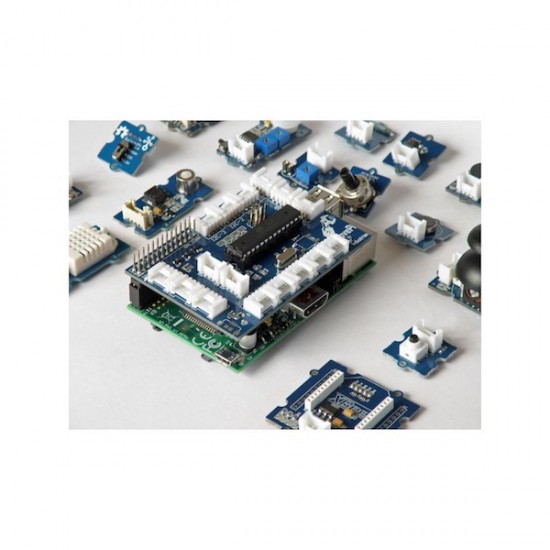 GrovePi+ Starter Kit
You've already tested the GrovePi+ Base Kit on your Raspberry Pi to familiarise yourself with the world of Grove? With the GrovePi+ Starter Kit, things get serious – it offers you even more Grove sensors and, above all, the possibility to officially enter the Internet of Things!
DISCONTINUED
GrovePi+ Starter Kit: a solderless electronics kit for using your Raspberry Pi 3 and the Grove universe to their full advantage
Rasperry Pi 3 is a smaller microcontroller that serves multiple purposes, allowing you to create electronics projects of varying complexity depending on your imagination and skills.
What makes the Grove kits designed for Raspberry Pi particularly interesting, is that they give free rein to your creativity with no need for tedious operations – like soldering for example!
The Grove modules include a comprehensive range of sensors and actuators you can simply connect to your GrovePi, which is fully compatible with all Raspberry Pi models.
You can create prototypes leveraging the possibilities of both Raspberry Pi and the Grove system using just the cables supplied with the Starter Kit. The kit includes a number of Grove modules, a GrovePi board, a Raspberry Pi 3, a microSD card and some very useful components including LEDs, a relay and a button.
With GrovePi you can connect up to 100 Grove modules to your Raspberry Pi, so the fun has only just begun!
GrovePi Playlist on the Dexter Industries Youtube channel
GrovePi+ Starter Kit by Dexter Industries: discover the Internet of Things
What's truly innovative about the Raspberry Pi 3 is that it gives electronics designers and creators access to the Internet of Things.
To connect your creations to the IoT even more easily, this new Grove kit for Raspberry Pi B+ includes a remote-controlled WiFi dongle. Simply connect it to your GrovePi with a cable, and find out just what you can offer the Internet of Things!
Technical specifications of the solderless electronics GrovePi+ Starter Kit
The GrovePi+ Starter Kit includes:
1 GrovePi board
1 GrovePi acrylic case
Hardware for assembling the case
1 Raspberry Pi 3
1 mini WiFi dongle
1 power adapter
1 Ethernet cable
1 microSD card with appropriate Dexter Industries software
1 Grove sound sensor
1 Grove temperature and humidity sensor
Several Grove light sensors
1 Grove relay
1 Grove button
1 Grove contactless ultrasonic distance sensor
1 Grove rotary angle sensor
1 Grove LCD RGB backlight
1 Grove buzzer
1 Grove red LED
1 Grove blue LED
1 Grove green LED
Sensor cables
Resources for the GrovePi+ Starter Kit
Discover all the GrovePi world has to offer in a single click!
Customers who viewed this item also viewed