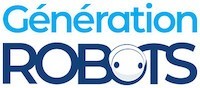 My Cart
0
item(s)
-
€0.00
There are no more items in your cart


RobotGeek Desktop RoboTurret
Trossen Robotics's robot turret is an Arduino-compatible platform ideal for a 1st robotics project, whether or not you're familiar with the Arduino IDE.
DISCONTINUED PRODUCT
RobotGeek robot turret: a Geekduino project
The RobotGeek Desktop Turret is a robot turret controlled by Geekduino, a microcontroller fully compatible with the Arduino programming environment. You can create your own program code then download it to your microcontroller from within the Arduino IDE.
Trossen Robotics has created some very comprehensive documentation, allowing you to take your 1st steps in robotics programming or create a new project with your favourite open-source IDE.
The RobotGeek Desktop Turret kit comes with a RobotGeek Sensor Shield you can connect directly to your microcontroller to add any of the Arduino-compatible modules, sensors and actuators designed by RobotGeek.
Some are even included in your pack. All you need is a 3-pin cable to connect each of your RobotGeek I/O modules.
1 Arduino turret, 2 brand new RobotGeek servos
Your Arduino turret comes with 2 RobotGeek 180° servomotors (RG-SRV180). These servos are more powerful than those provided with the previous versions of the RobotGeek robot turrets, offering a torque that has been multiplied by two.
They also have a mounting system guaranteeing greater stability and a more robust attachment to the turret.
Your RobotGeek Desktop Turret kit includes a push button and joystick, allowing you to design your own remote to control your servos.
And if you equip your turret with the laser beam, you can also check the direction in which it's moving by simply following the red dot.
Learn more about the RobotGeek Desktop RoboTurret in this video presentation
Technical specifications of the ASM-RG-TURRET RobotGeek Desktop RoboTurret
The base kit contains:
2 RobotGeek 180° servos:
Stall torque: 12 kg.cm
No-load speed: 43 RPM; 23 sec/60°
Operating angle: 180°
Weight: 60 g
Size: 30 x 45 x 51 mm
Stall current: 1600 mA
Standby/no load current: 150 mA
Control protocol: PWM
Cable length: 270 mm
Plastic body and metal gears
1 Arduino-compatible Geekduino microcontroller:
ATmega328 processor
Operating voltage: 5V/3.3V (switch selectable)
Input voltage (recommended): 7–12V
Input voltage (limits): 6–20V
Digital I/O pins: 14 (including 6 with PWM)
Analogue input pins: 8
Max. DC current per I/O pin: 40 mA
Max. DC current from 5V power regulator pin: 950 mA
DC current for 3.3V power pin: 1200 mA
Flash memory: 32 KB (2 KB for the bootloader)
SRAM: 2 KB
EEPROM: 512 bits
Clock speed: 16 MHz
USB connector: micro USB
Arduino equivalent: Duemilanove
1 RobotGeek Sensor Shield
1 laser with mounting accessories
1 RobotGeek joystick with cable
1 RobotGeek push button with cable
1 x 6V power supply
1 micro USB/USB cable
Turret plates, hardware and tools
Resources for the RobotGeek Desktop RoboTurret
Below you'll find all sorts of information, codes and project examples for your ASM-RG-Turret RoboTurret. It's all there!
Customers who viewed this item also viewed