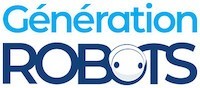 My Cart
0
item(s)
-
€0.00
There are no more items in your cart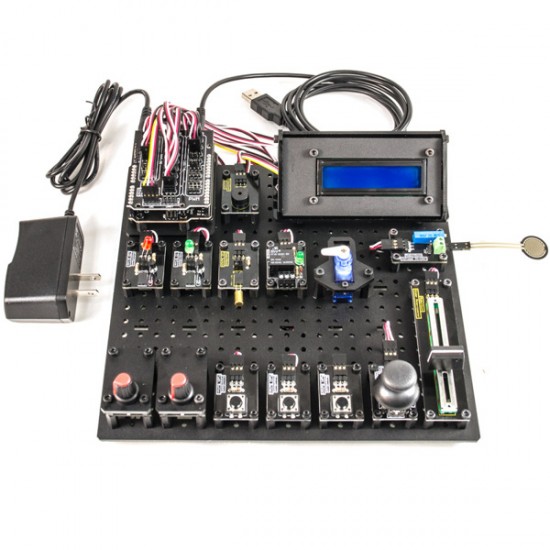 RobotGeek Arduino Basic+ Experimenter's Kit
This RobotGeek Arduino starter kit is ideal for familiarising yourself with the basic Arduino IDE commands while easily designing a robotics project using Geekduino, its Sensor Shield and a whole range of compatible sensors and actuators.
DISCONTINUED PRODUCT
RobotGeek Arduino Basic+ Kit: Arduino for beginners
Are you new to Arduino and its open-source programming environment, and hesitant about actually creating a real robotics project on Arduino? Do you shudder at the idea of wiring and soldering?
RobotGeek has designed a set of electronics and robotics kits around the Geekduino, a microcontroller that's fully software-compatible with Arduino: the RobotGeek Arduino Basic+ Experimenter's Kit.
The RobotGeek Arduino Basic+ Kit includes a Geekduino microcontroller that's powered and programmed using a micro USB port and has a switch for changing from 3.3 to 5V.
If you want to fully benefit from its 14 I/O pins and 8 analogue input pins we recommend equipping it with the compatible RobotGeek Sensor Shield, thanks to which you can use the full range of Geekduino-compatible RobotGeek modules with no complicated soldering or wiring.
RobotGeek Arduino Kit: an experimentation kit offering lots of possibilities
Your RobotGeek Arduino beginner's kit comes with an XXL breadboard to connect your microcontroller and Sensor Shield to all compatible actuators and sensors. Everything's been designed to help you assemble the kit's various components as simply as possible.
You get a full set of push buttons, rotation knobs, a force-sensing resistor, a light sensor and a buzzer, as well as a joystick, an LCD screen and a plastic micro gear servo to introduce you to small robotics projects.
All these modules are of course compatible with your breadboard and can be mounted immediately using the accessories supplied.
Never heard of the RobotGeek system? Here's your first lesson..
Technical specifications of the RobotGeek kit for Arduino
The RobotGeek Arduino Basic+ Kit contains:
1 large breadboard
1 mounting plate with mounting hardware for Geekduino
1 RobotGeek Geekduino microcontroller:

ATmega328P processor
Operating voltage: 5V/3.3V (switch selectable)
Input voltage (recommended): 7–12V
Input voltage (limits): 6–20V
Digital I/O pins: 14 (including 6 with PWM)
Analogue input pins: 8
Max. DC current per I/O pin: 40 mA
DC current for 3.3V power pin: 1200 mA
Flash memory: 16 KB (2 KB for the bootloader)
SRAM: 1 KB
EEPROM: 512 bits
Clock speed: 16 MHz
USB connector: micro USB

1 RobotGeek Sensor Shield V2
1 micro USB/USB cable
1 x 6V/2A power supply
10 x 3-pin 300 mm Sensor Shield cables
25 x 3-pin couplers
8 rubber bumpers for the breadboard
2 RobotGeek rotation knobs
3 RobotGeek push buttons
1 RobotGeek light sensor
2 RobotGeek LED drivers
1 FS90 analogue micro gear servo
1 RobotGeek buzzer
1 RobotGeek relay
1 RobotGeek tilt sensor
1 RobotGeek joystick V2
1 RobotGeek slider
1 RobotGeek voltage divider
1 x 12.7 mm female force-sensing resistor with coupler
1 RobotGeek LCD screen
1 x 2-pin jumper cable
Resources for the Trossen RobotGeek kit
We've compiled a selection of essential information for use with your RobotGeek Basic+ robotics kit as well as for the Geekduino and Sensor Shield:
Customers who viewed this item also viewed