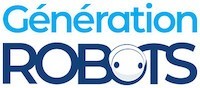 My Cart
0
item(s)
-
€0.00
There are no more items in your cart
RobotGeek Geekbot Basic Kit
This RobotGeek Geekbot kit for mobile robots allows you to easily build and program a two-wheeled rover on Arduino for carrying out exploration missions.
DISCONTINUED ARTICLE.
Geekbot rover kit: your programmable mobile robot on Arduino
The RobotGeek Geekbot Basic Kit consists of two perforated decks on which you can mount 2 wheels and their servos as well as an Arduino-compatible microcontroller and a shield for connecting RobotGeek modules.
The Geekduino microcontroller is fully programmable in the Arduino IDE, allowing you to practice with the famous open-source programming environment; and
You can connect the RobotGeek Sensor Shield to the microcontroller and to any of the sensors and actuators designed by Trossen Robotics for RobotGeek without having to use a soldering iron.
Geekbot mobile robot: a true exploration vehicle
This Basic Kit comes with an IR sensor kit with a 9 g servo and mounting hardware, so your two-wheeled rover can move around and recognise its environment. The infrared sensor scans the space ahead of it thanks to its servomotor.
With this Basic Kit, you can use all the RobotGeek sensor modules that plug into the Sensor Shield, including not only RobotGeek sensors requiring a 3-pin cable but also XBee modules and Grove sensors (with the necessary adapters). More about the RobotGeek Sensor Shield compatibility here.
The RobotGeek Sensor Shield makes it extremely simple to connect and install these modules on your Geekduino – all you need are cables, there is no soldering. Now all you have to do is create the program!
Never heard of the RobotGeek system? Here's your first lesson..
Technical specifications of the RobotGeek Geekbot Basic Kit
The RobotGeek Geekbot programmable mobile robot kit contains:
2 Geekbot decks (220 x 160 mm)
1 wheels and castors kit with servos
1 RobotGeek Duino Mount
1 x 6C battery pack
1 Geekduino microcontroller:

ATmega328 microcontroller
Operating voltage: 5V/3.3V
Input voltage (recommended): 7–12V
Input voltage (limits): 6–20V
Digital I/O pins: 14 (including 6 PWM outputs)
Analogue input pins: 8
DC current per I/O pin: 40 mA
DC current for the 3.3V pin: 1200 mA
Flash memory: 16 KB (2 KB for the bootloader)
SRAM: 1 KB
EEPROM: 512 bits
Clock speed: 16 MHz

1 RobotGeek Sensor Shield
1 IR sensor kit with 9 g servo and mounting hardware
10 sensor connection cables
50 x M3*6 bolts
20 x M3*10 F/F standoffs
20 x M3*15 F/F standoffs
20 x M3*20 F/F standoffs
20 x M3*25 F/F standoffs
20 x M3*30 F/F standoffs
20 x M3*15 F/M standoffs
1 M3 screwdriver
1 M2 screwdriver
Resources for the RobotGeek Geekbot Basic Kit
Explore all your KIT-RG-GEEKBOT-COMP robotics kit by RobotGeek has to offer with these essential links, showing you how to mount, connect and program your robot!
Customers who viewed this item also viewed