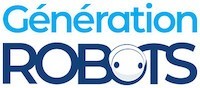 My Cart
0
item(s)
-
€0.00
There are no more items in your cart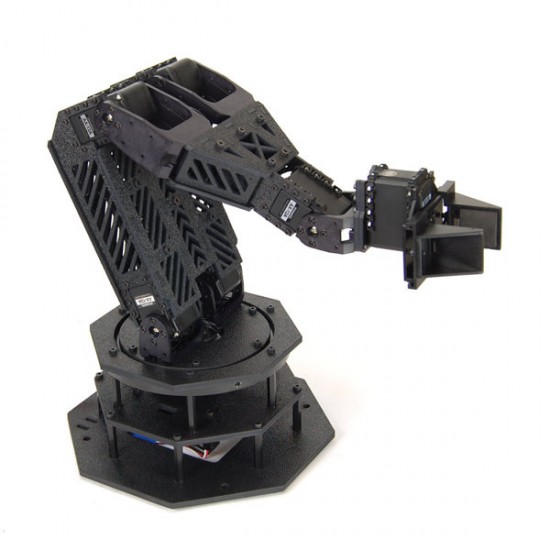 PhantomX Reactor Robot Arm Kit (without servomotors)
An agile, yet powerful robot arm created by the Interbotix laboratory for robotics engineers! Note that the
AX-12A servomotors
are not included!
DISCONTINUED PRODUCT
PhantomX Reactor Robot Arm by Trossen Robotics: small, agile, but extremely powerful!
The PhantomX Reactor Robot Arm by Trossen Robotics might be ultra-compact, but you certainly won't be disappointed by its strength. It has to be said, this robotic arm available to the general public was designed with 2 important things in mind: mobility and power!
Weighing in at under 1.5 kg, this small robot arm is nonetheless packed with interesting features: it's mounted on a 12 cm high ball-bearing base and has mounting brackets for sensors or a camera to improve your robot's capacities yet further.
It's not only robust (with a protective ABS plastic frame), but also affordable, compact and offers a multitude of possibilities. This PhantomX Reactor Robot Arm is the ideal buy for researchers, students and designers!
Discover the PhantomX Reactor Robot Arm by Trossen Robotics
7 Dynamixel AX-12A servos to give your robot arm a boost
The PhantomX Reactor arm also provides you with an excellent opportunity to discover the Dynamixel AX-12A servo motor: you'll need 7 of these (attention: these are not included in the kit) to get your robot arm working. There are 2 in the arm's first joint (shoulder) and 2 others at the elbow for great freedom of movement and more power.
In addition to offering an excellent range of motion, this type of servo also allows you to control the position, load, voltage level, internal temperature and compliance settings, all extremely easily using just your ArbotiX microcontroller!
Technical specifications of the Trossen Robotics Robot Arm:
Weight: 1360 g (1430 g w/rotate)
Vertical reach: 51 cm (55.5 w/rotate)
Horizontal reach: 38 cm (43 w/rotate)
Strength:
20 cm / 400 g
10 cm / 600 g
Gripper holding strength: 500 g
Wrist lift strength: 250 g (150 w/rotate)
This kit includes:
7 Dynamixel AX-12A servo motors
1 PhantomX Reactor robot arm hardware kit
1 ArbotiX microcontroller:

8 analogue I/Os and 8 digital I/Os
1 ATMega644p microprocessor
Serial control options: Physical, Xbee Wireless, USB/TTL
Compatible with the Arduino programming environment
Customisable firmware
ROS ready

1 12V/5A power supply
FTDI 5V programming cable
Resources for the Trossen robot arm
Browse through our full library of documents and codes to make the most of all your Trossen robot arm has to offer:
Customers who viewed this item also viewed