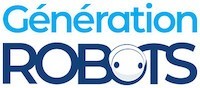 My Cart
0
item(s)
-
€0.00
There are no more items in your cart



FEZ Cream
The latest addition to the .NET Gadgeteer galaxy is the FEZ Cream module, which allows you to connect sensors and actuators to your Raspberry Pi and to program your creation using the .NET Micro Framework. Good news for all designers in love with the good old raspberry!
FEZ Cream, the Raspberry Pi Gadgeteer module
Compatible with all Raspberry Pi microcontrollers, including the Raspberry Pi 2 B and the Raspberry Pi B+ boards, FEZ Cream is a great connection platform for those using sensors and other devices designed for the NETMF system.
The module is pre-programmed with a C# driver that can be launched on Windows 10, and is also compatible with Linux.
.NET Gadgeteer, a simple solution for both programmers and designers
The .NET Gadgeteer modules are a set of sensors, actuators and boards that are easily assembled thanks to a plug-and-play system that does away with hard soldering work.
The .NET Gadgeteer collection is forever growing, offering an increasing number of programming possibilities in the .NET Micro Framework environment.
Technical specifications of the .NET Gadgeteer FEZ Cream module
Operating temperature: -20 °C to +85 °C
Dimensions: 65 x 56 x 15.9 mm
Weight: 29 g
Resources for the CREAM-SB-54 FEZ module
Want to learn more about programming in the NETMF environment and on .NET Gadgeteer? Below you'll find all the information you need, as well as all the data necessary for using your FEZ Cream!
Customers who viewed this item also viewed