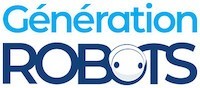 My Cart
0
item(s)
-
€0.00
There are no more items in your cart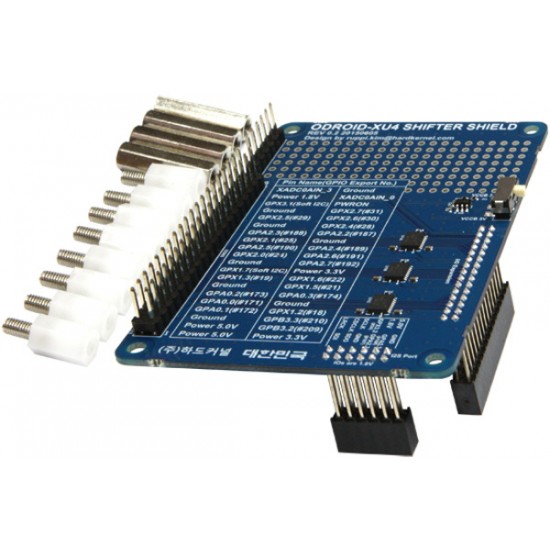 Odroid XU4 Shifter Shield
Hardkernel |
A-000000-02078
The Odroid XU4 board is innovative at many levels. However, it presents a compatibility problem with the 40-pin GPIO standard introduced by the Raspberry Pi B+. A problem the developers have fixed with the Odroid XU4 Shifter Shield!
Including €0.01 for ecotax
Odroid XU4: too original?
The Odroid XU4 board has two GPIO headers, the first with 30 pins and the second with 12. Both headers have pins with a 2 mm spacing.
Which, as you can see, creates a compatibility problem with the Raspberry Pi standard, which has widely imposed the 2.54 mm-pitch 40-pin GPIO header. Another problem, the XU4 GPIO headers deliver a voltage measured at 1.8V, which is insufficient for lots of devices operating generally with either 3.3 or 5V.
Odroid XU4 Shield: new standards
Fear not, the designers of the XU4 board have thought of everything – namely a shield created especially to ensure their latest baby is fully compatible with Odroid C1 and Raspberry Pi 2 B model (or almost).
The Odroid XU4 shield converts the 42 1.8V GPIO pins into a single GPIO 2.54 mm-pitch 40-pin header, and has a switch so you can choose between a 3.3V and 5V mode. The added bonus is the shield's "sea of holes", in other words a small prototyping area so you can benefit immediately from your XU4's new-found compatibility.
Technical specifications of the shield for XU4
3 TSX0108E bi-directional integrated circuits for voltage level conversion
GPIO 2.54 mm-pitch 40-pin header (2x20) compatible with Odroid C1
36 pins out of 40 compatible with Raspberry Pi 2/A+B+
I2C 6-pin header
3.3V/5V switch for GPIO connections
Integrated prototyping area
Very clear silkscreen GPIO pinout
Mounting hardware to attach the shield to the Odroid XU4 board
Resources for the Odroid Shifter Shield
We've spared a thought for all those wishing to take their analysis of the Odroid Shifter Shield a little further with these two technical schematics:
Mechanical schematic of the circuit board
Technical schematic of the Odroid XU4 Shifter Shield
Customers who viewed this item also viewed