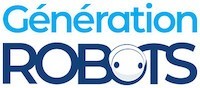 My Cart
0
item(s)
-
€0.00
There are no more items in your cart



FEZ Reaper Mainboard
The FEZ Reaper Mainboard has been specially calibrated for users of .NET Gadgeteer and .NET Micro Framework. Versatile and easy to use, it helps electronics and robotics enthusiasts design projects quickly and painlessly.
DISCONTINUED PRODUCT
FEZ Reaper: brings robotics and electronics projects to life
The Gadgeteer FEZ Reaper Mainboard offers many possibilities, both in terms of hardware and software:
Its 10-pin connector is compatible with a large number of Gadgeteer sockets, offering access to a full range of Gadgeteer sensors and actuators;
A simple USB connection allows you to program your board using C# or Visual Basic from within Microsoft's Visual Studio;
You have free access to a complete code library allowing you to network and add devices and GUIs.
Debug your FEZ Gadgeteer board with ease
The FEZ Reaper USB client makes debugging programs easy, using simply a USB port serving also for programming. All you need is a standard USB cable to connect your electronics board!
Technical specifications of the REAPR-GM-537 board
Processor: 180 MHz 32-bit ARM Cortex-M4
Chipset: G80 SoC
System platform: .NET Micro Framework
User available flash: 256 KB
User available RAM: 156 KB
82 GPIOs
12 PWMs
12 analogue inputs
4 UARTs
2 SPIs
I2C interface
Ethernet TCP/IP, PPP
2 CANs
2 analogue outputs
USB client: debugging, extended
USB host: yes
1-wire: yes
Real time clock: yes
Supported image formats: BMP, GIF, JPG
Memory cards: yes
File system: FAT16/FAT32
Operating temperature: -40 to 85 °C
Dimensions: 87 x 57 x 7.4 mm
Weight: 25 g
Number of sockets: 14
Gadgeteer socket types: A (x4); C (x2); D; F; H; I (x4); K (x2); O (x2); P (x4); S (x2); U (x4); X (x5); Y (x6); Z
European RoHS certified
Resources for the FEZ Reaper
Find out more about .NET Gadgeteer and its NETMF programming platform and obtain detailed information on the FEZ Reaper here!
Customers who viewed this item also viewed