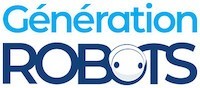 My Cart
0
item(s)
-
€0.00
There are no more items in your cart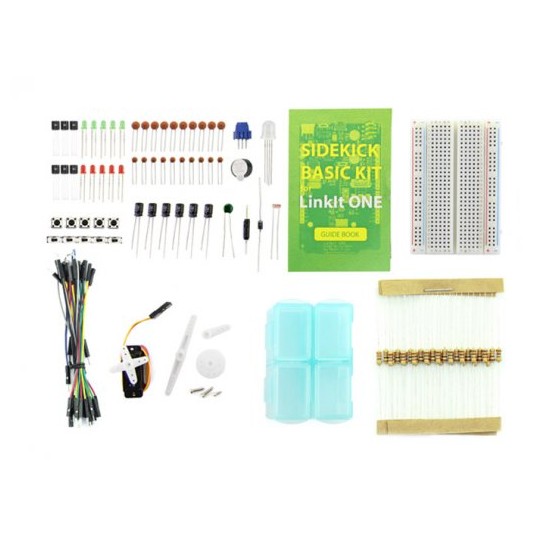 SideKick Basic Kit for LinkIt ONE
Seeed Studio |
A-000000-02159
The SideKick Basic Kit for LinkIt ONE, which includes numerous basic electronics components (breadboard, jumper wires, resistors, LEDs, transistors, switches, etc.), will help you quickly familiarise yourself with your new LinkIt ONE board
DISCONTINUED ARTICLE.
Presentation of the SideKick Basic Kit for LinkIt ONE by Seeed Studio
The SideKick Basic Kit for LinkIt ONE by Seeed Studio is designed to help you discover the different uses of the LinkIt ONE board, which was developed especially for use with the Internet of Things (IoT) and wearables.
In this kit you get numerous electronics accessories and components you can assemble without using a soldering iron – which is ideal if you're just starting out in electronics or if you're looking for a small but pretty comprehensive prototyping kit.
Seeed Studio hasn't done things by halves, because the kit comes with a small guide containing 10 example projects that will help familiarise you, step by step, with electronics and programming:
Lesson 1: The Basics
Lesson 2: Hello World
Lesson 3: Push Button
Lesson 4: Marquee
Lesson 5: Colourful World
Lesson 6: Analogue Interface
Lesson 7: Mini Servo
Lesson 8: Light Sensor
Lesson 9: SMS LED Control
Lesson 10: Web Page Temperature Acquisition
Everything is carefully stored in a small, transparent plastic box that can be taken anywhere and will keep your components neat and tidy, safe from harm.
Example of a circuit created using the SideKick Basic Kit for LinkIt ONE – Lesson 8: Light Sensor
Technical specifications of the SideKick Basic Kit for LinkIt ONE by Seeed Studio
The SideKick Basic Kit for LinkIt ONE contains:
1 x Breadboard (400 points)
5 x Green LEDs
5 x Red LEDs
1 x RGB common-anode LED
10 x 10 nF ceramic capacitors
10 x 100 nF ceramic capacitors
5 x 100 uF aluminium capacitors
10 x 330 Ω resistors
10 x 1 KΩ resistors
10 x 10 KΩ resistors
1 x Tilt switch
1 x Thermistor
1 x LDR
1 x Diode
1 x Buzzer
5 x Push buttons
5 x Switches
1 x Mini servo
1 x Potentiometer with button
25 x Breadboard jumper wires
6 x 2N3908 transistors
1 x Small guide
2 x Small storage boxes
1 x Large storage box
Resources for the SideKick Basic Kit for LinkIt ONE
Below you'll find a few resources that will help you get rapidly to grips with your SideKick Basic Kit for LinkIt ONE and the LinkIt ONE board:
Customers who viewed this item also viewed