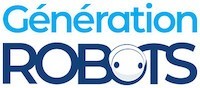 My Cart
0
item(s)
-
€0.00
There are no more items in your cart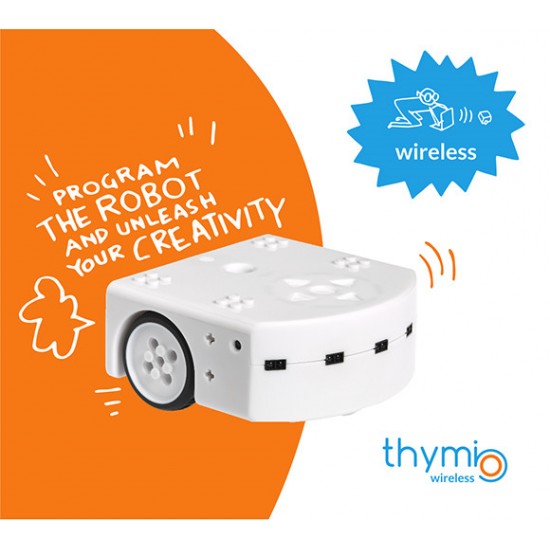 Mobile robot Wireless Thymio

The Wireless Thymio educational mobile robot is the wireless version of the popular Thymio II.
The Thymio mobile robot is Lego compatible, features many sensors, a great child friendly coding software and many free online resoures for both teachers and at home users.
Both robots are great educational tools!
Including €0.10 for ecotax

In addition to: VPL, Blockly, standard lines of code.
Introducing the new mobile robot Wireless Thymio
Both the mobile robot Thymio II and the Wireless Thymio have been developed in collaboration by the Swiss Federal Institute of Technology in Lausanne (EPFL) and the Cantonal Art School of Lausanne (écal). Their aim is to provide educational mobile robots at a low price.
The mobile robot Wireless Thymio is totally open-source, at hardware and software levels.
The mobile robot Wireless Thymio is easy to manipulate, thanks to its small size (110x110x50 mm) and weight. Its beautiful white body makes it very robust and it is very attractive thanks to its capacitive buttons and colored leds.
The mobile robot Thymio II contains many sensors (microphone, infrared receiver, temperature, proximity, 3 axis accelerometer, ground sensors for line following), actuators (motors, speakers, LEDs), connectivity (USB, memory card) and off course a brand new WiFi module!
The Wireless Thymio is a classic Thymio II robots with a WiFi module soldered onto its PCB. The Wireless Thymio also comes with a USB dongle (IEEE 802.15.4  à 2.4 GHz) for your computer.
The combo WiFi module + USB dongle replaces the USB cable and allows you to remotely program your Thymio robot!
But the mobile robot Thymio II knows how to offer opportunities to those who want to increase the capabilities of this robot. You can add a pen in the robot to draw with it and you have access to Lego-compatible attachment points: the only limit is your imagination!
The mobile robot Thymio II's designers don't lack of it, as you can see on this page or in this presentation movie:
What can I do with a Wireless Thymio? (that I couldn't with the Thymio II)
Distant programming: no more constraining USB cable! You can now leave the robot on the playground while you program it wirelessly
Inter-robot wireless communication (up to 50m)
Visual feedback in VPL: you can see when each part of the program is executed (possible only when connected with the USB cable)
Feedback of all variables in real time: check the values of the sensors, change the motor speed, and much more
Distant control: you keep a continuous control of the robot and can stop it remotely if needed
First steps with the mobile robot Wireless Thymio
First plug the mobile robot Thymio II with the USB cable and give it half an hour to charge.
Then you can test the demonstration behaviors included in the robot: Press (well, touch) the center button until the robot turns on and select a behavior with the side arrows. Then press the center button to start.
Friendly (green)
Thymio II follows the object in front of it.
Explorer (yellow)
Thymio II explores the environment while avoiding obstacles.
Fearful (red)
Thymio II detects shocks and free falls, and shows the direction of gravity.
Investigator (cyan)
Thymio II follows a trail.
Obedient (purple)
Thymio II follows the command from the buttons or from a remote control.
Attentive (blue)
Thymio II responds to sound. We can control the robot by clapping.
1 clap = go straight ahead / turn
2 claps = run / stop
3 claps = turns in a circle
All those behaviors are described on this page, on which you can also download the source code for each behavior.
Thymio is programmed with the Thymio Suite software, which replaces the Aseba software suite (Aseba being also the name of the text programming language). Thymio Suite is compatible with Windows, Mac, Linux and can be used on iPads.
To use Thymio Suite from a computer
Go to the
Thymio Suite software download page
. Choose the version that corresponds to your system (Windows, Mac or Linux) and launch the download. Then install the software on your computer and run it! You can then select the programming language you wish to use:
VPL (Visual Programming Language), an event-driven programming language, based on pictogram associations. Very easy to learn, perfect for young children who are just discovering programming.
Scratch 3, a visual programming language based on blocks of instructions that must be logically nested to create a more or less complex program.
Blockly, use math, logic, loops, variables and discover more programming concepts!
Aseba, a text language developed for Thymio that allows, among other things, to collect data from sensors and actuators and to create much more complex programs.
To use Thymio Suite from an iPad
Programming the Thymio robot with a tablet (only iPad for the moment), requires a relay computer, which runs Thymio Suite, and on which the Thymios will be connected, thanks to their USB dongles connected to a USB hub. You will also need to install the
Thymio Suite Mobile
application on each iPad. The diagram below shows the configuration required to run Thymio Suite on a tablet.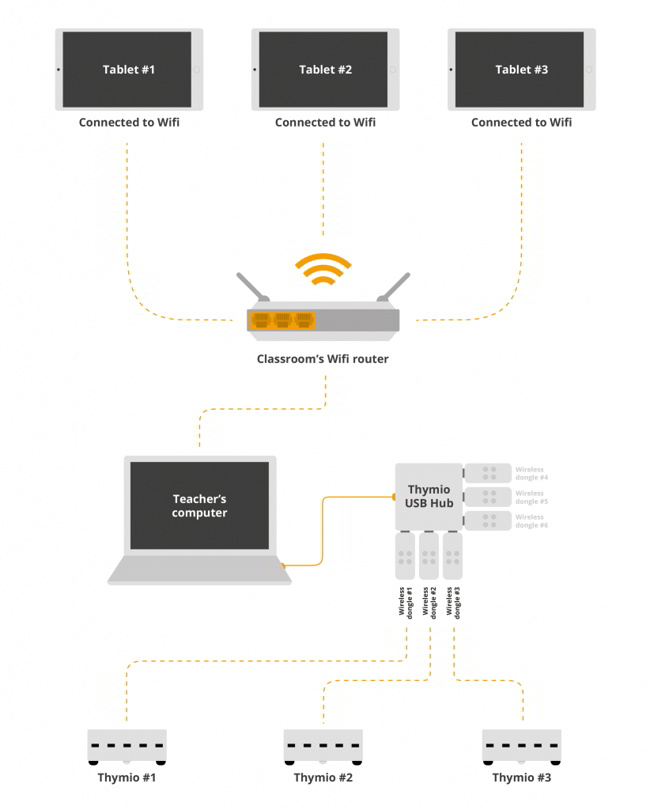 Thymio robot firmware update
To update the firmware of the Thymio robot, and thus access the latest features, follow these steps:
Connect your robot to your computer with the USB cable.
Select a programming language in the Thymio Suite software,
Right-click on the robot you want to update
Lastly, click Upgrade Firmware.
Educative resources Inirobot with Thymio 2 in schools
Inirobot is a sequence of educational activities which will allow pupils and teachers to become acquainted with robotics. The robotic platform chosen for the implementation of this project is the educational robot Thymio II. With its small size, light weight and colored leds, the Thymio II is the ideal learning tool for kids!
The 3 key learning objectives of the Inirobot module are:
Learning a new (and probably first) computer language: the VPL (Visual Programming Language) which was developed at the EPFL (Swiss Federal Institute of Technology in Lausanne)
Creating computer programs and instructions
Finding out more about electronic circuits and the robot/computer communication and mechanics
The project team Flowers has also made an extensive resources package available to the teachers/facilitators:
Learning objectives for each sequence
Activity management roadmaps (inc. all the assignments answers for the teachers)
Robot software datasheet, installation guide and user guide
Examples of activities and tutorials
There is also a forum dedicated to this project, all questions and feedbacks are welcome!
A testing phase was launched in several school in Aquitaine, in May and June 2014, and the Inirobot learning module has been since then implemented in schools located in Talence (Bordeaux) and Lille.
Resources
Data sheet
Programming language

Blockly

Programming language

Python

Programming language

Unplugged activity

Programming language

Scratch

Programming language

Icons

Programming language

Without screen

Age group

6-8 years

Age group

12-14 Jahre

Age group

9-11 years

Compatibility

iOS tablet

Compatibility

Unplugged activities

Compatibility

Android tablet

Compatibility

Computer

Power supply

Battery (rechargeable)

Robot type

Mobile robot

Age group

12-14 years

Age group

6-8 years

Age group

9-11 years
Customers who viewed this item also viewed