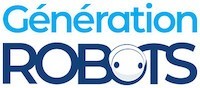 My Cart
0
item(s)
-
€0.00
There are no more items in your cart


A high-performance platform for creating your own audio player
The WAV Trigger was born of a joint SparkFun and Robertsonics project. It has an embedded STM32F405 circuit, and all the audio electronic components needed to play back uncompressed WAV files in CD quality. There are 16 programmable inputs for managing sound.
SparkFun WAV Trigger: create your own MIDI sounds for inclusion in your project
The WAV Trigger by SparkFun offers a fun and useful advantage: you can create your own MIDI sounds using the wide range of settings offered by the embedded MIDI electronics components, including volume, fade in and fade out. There are 14 independent tracks you can control simultaneously.
Demo video of WAV Trigger
Technical specifications of the STM32F405 audio platform
Supply voltage: 6–12 Vdc
Consumption: 80 mA (sleep), 120–200 mA (read)
Low-power sleep mode: approx. 5 mA on standby
Up to 2048 16-bit WAV files, 44.1 kHz
Simultaneous mixing and playback: up to 14 independent stereo tracks
Response time: 8 ms, max. 12 ms
File system: FAT16/FAT32
Audio output: 2.5 mm stereo headset jack and on-board 2W mono audio amplifier and speaker connector (1.25W @ 8 ohms)
Trigger inputs: 16; 3.3 or 5V adjustable
Outputs: 3.3 and 5V
Full duplex serial, 8N1, 57.6 kbaud rate, MIDI
Adjustable volumes from +10 dB to -70 dB in 0.5 dB increments
Programmable with the Arduino code library
Pinout compatible with the SparkFun FTDI Basic board
Resources for the SparkFun/Robertsonics WAV Trigger
The WAV Trigger comes with some very comprehensive documentation, which we've gathered together for you below:
Customers who viewed this item also viewed