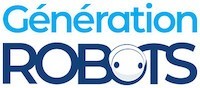 My Cart
0
item(s)
-
€0.00
There are no more items in your cart
Get a quote in only 3 steps!
1. Add the items you are interested in to your cart
2.Go to your cart
3.Click on GENERATE A QUOTE
Your quotations are available online on your customer account.
Poppy Ergo Jr without 3D printed parts nor wooden plate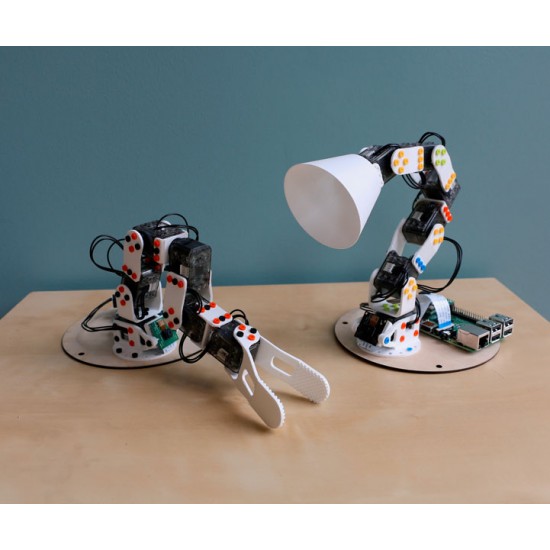 Including €0.38 for ecotax
Poppy Ergo Jr, a robot from the Poppy range, was developed by the Inria Flowers team for educational purposes. It's a small robot arm with 6 degrees of freedom and interchangeable ends.
Payment methods
(see T&C)
The Poppy Ergo Jr robot arm belongs to the same family as Poppy Humanoid and Poppy Torso released in 2015, which have already begun to conquer the world of research and education!
The Poppy project
Poppy is an open-source platform for creating, using and sharing interactive robotic objects. It's aimed at both beginners and experts in the fields of education, science and art as well as robot makers in general.
It was designed as a tool for learning, creating and sharing ideas and technologies relating to all things digital.
The Poppy technology platform comprises open-source hardware models (CC-BY-SA) and an open-source Pypot software library based on the Python programming language.
There's also a dedicated online community where all users can access documentation, tutorials, software and simulators and help improve the platform: http://www.poppy-project.org.
Poppy is a technology platform for creating all types of creatures and other robots. The Poppy project's founders have so far invented three creatures, but you can also design your own robot using the platform. The three creatures are:
The Poppy ecosystem, originally developed by the FLOWERS team of French lab INRIA was transferred in 2018 to the association Poppy Station.
Generation Robots, historical distributor of the Poppy robots, is founder partner of Poppy Station.

Overview of Poppy Ergo Jr
Poppy Ergo Jr is the Ergo robot's younger brother, developed initially for the Mathematics: A Beautiful Elsewhere art/science project. Born of a partnership between the Inria Flowers team, Labri and film director David Lynch (Dune, Mulholland Drive, Elephant Man), the experiment was aimed at exploring artificial curiosity and language discovery in robots.
The "Mathematics: A Beautiful Elsewhere" art/science project
The Poppy project first was conceived in the Inria Bordeaux Sud-Ouest Flowers laboratory, a flagship French research centre specialising in information technologies.
The Poppy Ergo Jr kit
The Poppy Ergo Jr Kit, less expensive than the Poppy Humanoid robot, familiarises users with the Poppy technology platform and introduces them to its open-source universe. The Poppy Ergo Jr robot kit comes with an activity booklet and some building instructions.
It includes 6 Dynamixel XL-320 servo motors, used commonly in research prototyping and robotics projects, controlled by a Pixl board.
This version does not come with the 3D-printed parts, if you'd rather print the 3D parts yourself! You'll find the STL files on the Poppy forum. You can also find the Poppy Ergo Jr kit with 3D parts on our website.
You can print the 3D parts yourself!
You can customise the end of the Poppy Ergo Jr arm, and the kit comes with several interchangeable accessories: a lampshade, a gripper and a pen holder.
In the STL files, you'll find several different ends for the Poppy Ergo Jr arm: a lampshade, a gripper and a pen holder.
Because Poppy Ergo Jr is an open-source robot, you can of course create and adjust your own 3D-printed end according to your project!
Poppy Ergo Jr: an educational tool
The Poppy project was created with the aim of helping everyone to understand and shape the digital world in which we live. The creatures in the Poppy family are ideal tools for teachers.
Use of educational platforms like Poppy Ergo Jr will take on new meaning following the French school reforms planned for this coming autumn.
Below are just some of the teaching objectives (added to the French lower secondary curriculum for autumn 2016) that can be met using the Poppy Ergo Jr robot:
Knowledge of programming (create, write and execute a computer program)
Spatial awareness and movement, using or creating illustrations
Creation of a technological object and analysis of its structure and how it functions
Understanding of how a computer network functions
Collaborative creation of a communicating object prototype
Creation of solutions meeting actual needs and materialisation of an idea integrating a design dimension
Poppy Education, the open-source educational robotics specialist, proudly presents its Poppy Ergo Jr Kit
Each Poppy Ergo Jr Kit comes with a manual of educational activities, so you can get quickly started with this robot and to make organising educational workshops simpler.
The Poppy platform has its own, very active online community. Users are invited to share their feedback and ideas for activities involving the Poppy Ergo Jr robot on the following page: educational activities involving the Poppy Ergo Jr robot
The Poppy technology
| | |
| --- | --- |
| 3D structural components | A programming software library |
| | |
| In the Poppy community, the 3D files needed to print structural parts are made available to all. | The Pypot library in Python for programming robots created using the Poppy platform. Poppy robots can also be programmed visually using Snap! |
| Models available for simulators | An active community |
| | |
| V-Rep offers a simulation of the Poppy Ergo Jr robot. | Poppy's user community is growing bigger every day, as you'll see if you follow their very active forum and the different uses of their Poppy robots. |
In addition to programming your robot traditionally, in Python, you can program it using WiFi and a standard web browser via IPython.
Like the other Poppy creatures, the Ergo robot can also be programmed in Snap!, a visual programming language designed for teaching pupils and beginners computer science and mathematics.
The concept: each brick represents a set of preconfigured basic instructions, which you then simply assemble and run from within a web browser.
An example of script compiled using the Snap! programming language
Technical characteristics of the Poppy Ergo Jr robot
Poppy Ergo Jr is a small robot arm with 6 degrees of freedom. It works with Dynamixel XL-320 servo motors controlled by a Pixl board. This board also powers the Raspberry Pi 3 Model B board.
It takes 1 to 2 hours to assemble the Poppy Ergo Jr robot, and with a little practice you'll need just 30 minutes! The robot is also very easy to disassemble, thanks to its OLLO rivets and 3D parts.
No soldering is required to put this robotics kit together, making it ideal for use in the classroom.
The GIF image below will take you to the Poppy Ergo Jr assembly guide.
Hardware contained in the Poppy Ergo Jr robot kit
The Poppy Ergo Jr robot comes with all the necessary components and in kit form. You'll need to assemble it from scratch. As seen above, you can find videos online showing you how to assemble the robot. The kit contains:
1 x OLLO tool
1 x Pixl board
1 x 8 GB microSD memory card
4 x M2.5x6 screws
4 x M2x5 screws
4 x N1 M2 bolts
1 x 7.5V power supply for the Pixl board
1 x Camera Module V2 for Raspberry Pi
1 x RJ45 1m Ethernet cable
1 x Activity booklet
In this version, the Poppy Ergo Jr 3D parts are not supplied with the kit
 Do not power the Raspberry Pi card through the USB port when it is powered via the Pixl card.
Resource for Poppy Ergo Jr without 3D printed nor wooden plate
Please check that the Bonjour software to recognise http://poppy.local is installed. Just follow this link.

---

Despite the installation has been done, I can't log into the http://poppy.local interface. Why can't the computer detect my Poppy Ergo Jr robot?

The robot must be connected to the same local network as the computer, using an ethernet cable. If the robot is directly connected to the computer, the network must be shared by the computer. For more information, follow this link.

---

It can be found in the "Easy and recommended way: use the Poppy Ergo Jr SD-card" section. Just follow this link.

---

The camera has to be plugged to initialise the robot

---

The detailed documentation for the preparation of a Poppy Ergo Jr robot can be found on this link.

---

Where can I find more information to solve my problem or for my project with the Poppy Ergo Jr robot?

You may find information on the Poppy Ergo Jr forum. If your problems remains, please contact us. The forum is on this link.

---

Poppy Ergo Jr is programmed with Snap!, a language that is very similar to Scratch.

---

We have gathered the best educational resources, classified by levels or by robots on our website. You can access them via this link.

---
Anonymous A. published the 26/01/2018 following an order made on 26/01/2018
.....
Anonymous A. published the 24/09/2017 following an order made on 24/09/2017
Some challenges printing parts (had to get files from Thingiverse) and had difficulty using with Windows. Paper documentation shipped was in French, but online directions in English were clear and easy to follow. Overall a positive experience, recommended product.
Customers who viewed this item also viewed