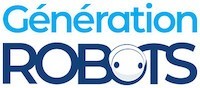 My Cart
0
item(s)
-
€0.00
There are no more items in your cart



TFP401 HDMI/DVI Decoder for 40-Pin TTL Non-Touch Screen
This modest-sized board connects to a 5 or 7" TTL screen and can also be used as a DVI/HDMI decoder.
DISCONTINUED PRODUCT
TFP401 DVI/HDMI decoder: low consumption and a small size, but an excellent definition
The DVI/HDMI decoder by Adafruit Industries is designed around the TFP401 by Texas Instruments. A decoder capable of reading all your HDMI/DVI videos and transcribing them in 24-bit colour pixel data on a TTL screen.
You can use this board simply as a driver for your TTL screen, or as a decoder. It's equipped with a USB port to connect your microcontroller (Raspberry Pi or Beaglebone Black) and has a very interesting power consumption for designers of small projects:
500 mA max. with 5" TTL screen and backlight running
370 mA with 5" TTL screen and backlight running at half-brightness
250 mA with 5" TTL screen and backlight off
This board is so small you can make it easily disappear in your screen's enclosure.
Learn more about the TFP401 HDMI/DVI Decoder for 40-Pin TTL Non-Touch Screen video presentation (7:40)
Non-touch version
Please note that if you want to use a 4.3" 480x272 TFT touch screen, you'll need the touch version of this decoder.
Technical specifications of the TFP401 decoder
Dimensions: 51 x 68 x 8.5 mm
Weight: 18.5 g
Customers who viewed this item also viewed