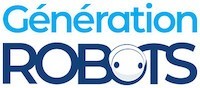 My Cart
0
item(s)
-
€0.00
There are no more items in your cart
Pioneer LX mobile robot
The Pioneer LX is a mobile robotics research platform based on the Adept Lynx industrial AIV (Autonomous Intelligent Vehicle). See it as a virtually inexhaustible motorised platform, fully programmable and configurable, coming with a powerful microprocessor, a versatile SDK, and some nice surprises for all sorts of researchers. DISCONTINUED PRODUCT
Fast, powerful and smart: the Pioneer LX robot by Adept pulls out all stops
The Pioneer LX is a research mobile robot that will become the king of your lab. It can be customised at will and demonstrates mechanical and material qualities that will leave you speechless.
This rugged ground robot can carry a payload of up its own weight over indoor surfaces. It features 2 drive wheels and 4 casters increasing its freedom of movement, and powerful motors for speed and agility.
Learn more about the Pioneer LX mobile robot in this video presentation
Like all mobile and research robots by Adept, the Pioneer LX includes the extensive Pioneer SDK, a set of software applications that can be used to map, steer, control, configure, position, and observe.
You can also count on a dual core 1.8 GHz processor and a built-in graphics driver with wireless Ethernet communication to carry out your robotics experiments successfully.
Inexhaustible and transformable at will
The Pioneer LX has been designed for continuous non-stop industrial service and can operate up to 13 hours before recharging (in 3h30 only). In short, you'll have more than enough to make the most of it in a variety of scenarios, both indoors and outdoors.
Optional accessories are available: you can equip your mobile robot with robotic arms, a PTZ digital camera (with its control unit), a speech synthesis kit, a GPS system, a configured wireless access point and a precision compass – everything you need to turn your all-wheel drive robot into an autonomous and versatile exploration platform, exactly the way you had imagined.
Technical specifications of the Pioneer LX
Weight: 60 kg
Maximum payload:

60 kg (level surface)
20 kg (20% grade)

Power: 24 Vdc 60 Ah LiFePO4 battery

Autonomy: 13 hours (continuous)
Charge time: 3.5 hours
Battery life: 7 years, 16 hours/day, 5 days/week

Automatic or manual charging station
Auxiliary power: 5,12, 20 Vdc
Max. speed: 1.8 m/s (2 m/s with full payload)
Non-marking rubber tires
Differential steering
2 drive wheels
4 casters
Swing radius: 343 mm
Turn radius: 0 mm
Traversable gap: 15 mm
Traversable sill/threshold: 15 mm
Intel D252 64-bit Dual Core 1.8 GHz Atom processor
Integrated graphics processing unit

2GB DDR3-1066 RAM
Windows and Linux compatible
802.11 a/b/g wireless
Gigabit Ethernet (2x)
USB (3x)
RS-232 (2x)
16 digital inputs
16 digital outputs
4 analogue inputs
4 digital inputs

Pioneer LX includes:

On-board computer with Linux OS
Autonomous navigation and mapping software
Sick S300 laser scanner
Joystick (used for mapping and re-location)
Front and rear sonar, forward bumper panel with switches
Wireless Ethernet communication
Colour LED status indicator rings
Speakers & Voice synthesis software
Pioneer software development kit
Resources for the Pioneer LX robot
As usual, don't leave before downloading all the technical documents for Pioneer LX!
Customers who viewed this item also viewed